Voting Rights Act Section 4 Struck Down By Supreme Court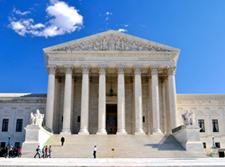 Today the U.S. Supreme Court voted to strike down Section 4 of the 1965 Voting Rights Act as unconstitutional. The 5-4 ruling was authored by Chief Justice John Roberts and joined by Justices Antonin Scalia, Anthony Kennedy, Clarence Thomas and Samuel Alito.
"Today's decision by the Supreme Court overturning Section 4 of the Rights Act is a major breakthrough for protecting the rights of the states to control their own elections as guaranteed by the Constitution," TexasGOPVote blogger and political analyst Bob Price said. "Texas should now be able to move forward with implementing our photo ID for voter identification as well as other issues relating to redistricting. Texans were being treated unfairly compared to residents of other states. Now all will be treated equally once again."
"This is without doubt a step in the right direction for our Republic," True the Vote President Catherine Engelbrecht said. "In the months leading up to this decision, the nation has come to realize, through an assortment of scandals and revelations, just how far the federal government has reached into the daily lives of ordinary citizens. It is our hope that as the nation considers adjustments – we keep an eye toward our founding values of liberty, justice and common privacy. The process of reigning in federal abuses begins with our election systems – today's decision serves as momentum in our favor.
"For decades, voters in various states, counties and boroughs have been punished for the sins others committed in a bygone era. Washington has treated whole segments of this nation as guilty until proven innocent. Ideological bureaucrats have used this law to exact a form of racial justice on their presumed enemies while ignoring the country's demands for basic election integrity measures. Thankfully, the Court stripped Washington of a power that was only being used as a weapon today," Engelbrecht continued. "An active electorate is the key to a healthy, representative republic. It is our responsibility to engage, serve and question our election systems. Today the average voter was returned an immense power in the American experiment. God help us if we do not use it wisely."
The preclearance portion of the 1965 Voting Rights Act prohibited certain states from making any changes to election laws and procedures without gaining official authorization from either the U.S. Department of Justice or a three judge panel in the D.C. District Court. The law has been used to block voter identification laws and initiatives to hold non-partisan elections in recent years.