John Cornyn Open to Working on Immigration Legislation, Good Move For Texas and GOP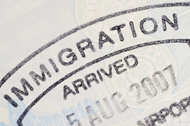 Senator John Cornyn recently stated that he is ready to work with legislators on an immigration bill. Personally, I would like to thank Senator Cornyn for stepping up to the plate on this volatile issue. Senator Graham retreated (thankfully) because he could not pursue his cap and tax legislation. This is a great opportunity for Texas to lead the nation in dealing with immigration reform and border security.
It is time for us to sit down with our senator and develop a plan we can take to the nation rather than wait for the nation to shove a plan of amnesty down our throats.
Senator Cornyn understands amnesty is a non-starter. Any legislation calling for that will be dead on arrival. Let's take advantage of this opportunity to show Texas and Texans can work with our representatives to develop a real plan for border security and immigration reform that does not include amnesty and any other shortcut to citizenship.
Texas is severely affected by this problem. Texans must lead the way out of it!