John Cornyn Statement On Senate Passage Of Financial Regulatory Bill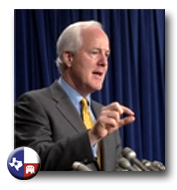 I issued the following statement tonight after the U.S. Senate passed the financial regulatory bill by a vote of 59-39. I voted "No."
This bill fails to end "too big to fail," guarantees future taxpayer bailouts for large financial firms, and does nothing to reform Fannie Mae and Freddie Mac, who were at the center of the housing and financial crisis. The Senate today imposed more regulations and red tape, which punishes small business owners and community bankers who had little or nothing to do with the economic crisis. No wonder Wall Street firms, including Goldman Sachs and Citigroup, support the bill while community banks, credit unions, and other small businesses vehemently oppose it.
(*Note from TexasGOPVote: All Republican Senators voted against this bill with the exception of Scott Brown, Susan Collins, Chuck Grassley, and Olympia Snowe.)