Liberal Bill White Insults Ranchers, Military Veterans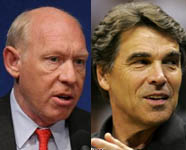 The following just came in from the Republican Party of Texas regarding Democratic Texas Gubernatorial candidate Bill White's continuos lying:
Liberal trial lawyer Bill White stepped in it again. Speaking in Wichita Falls Tuesday, White tried to tout his education goals and attempted to criticize Governor Rick Perry. In the process, according to the Wichita Falls TimesRecordNews, White said that Gov. Perry has never held a private sector job!
Gov. Perry's extensive resume not only includes decades of service to the people of Texas, but Gov. Perry has been a Texas rancher. Until Democrats like Bill White seize control of that industry like they've taken control of so many others, ranching is in fact a private sector job. 
And, from 1972 to 1977, Rick Perry was a C-130 pilot for the United States Air Force, risking his life in overseas assignments to keep Americans safe. Evidently, liberal trial lawyer Bill White discounts this experience. Why else would he go out of his way to slam Gov. Perry's career?
Additionally, Gov. Perry's career doesn't include serving on the board of a company that's currently under Congressional investigation. Bill White's does. And Gov. Perry's record doesn't include hiding $83,000 in income from the people of Texas. Bill White's does. And Gov. Perry has been completely transparent with the people of Texas from the beginning of his career. Bill White is making a habit of hiding his finances and shady deals from his prospective bosses, while the city that the liberal Democrat left behind is massively in debt and becoming embroiled in a document-shredding scandal.
"Bill White's insult to ranchers and military veterans proves once again that he is not only too liberal for Texas," said Republican Party of Texas spokesman Bryan Preston. "It proves that he doesn't even possess a basic command of the facts."