Live Blog Texas Legislative Session, Texas House of Representatives
Today is the first day of the 82nd Legislative Session. TexasGOPVote will keep you informed with live updates and pictures.
11:30am - The House convenes for session.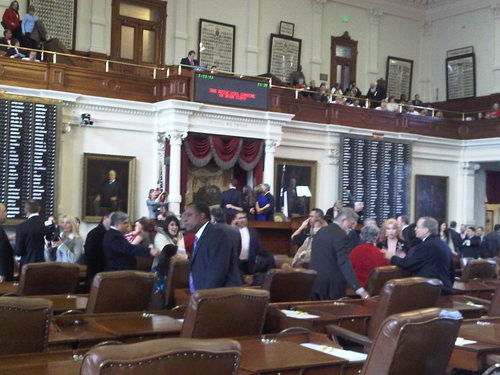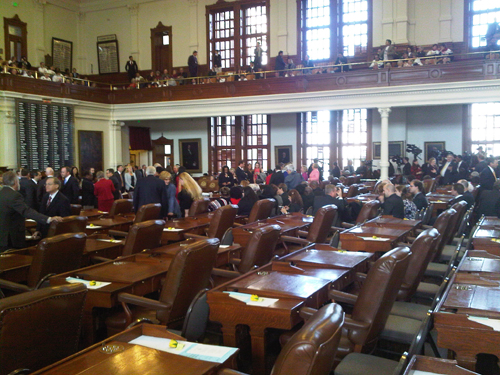 Video footage before the session begins.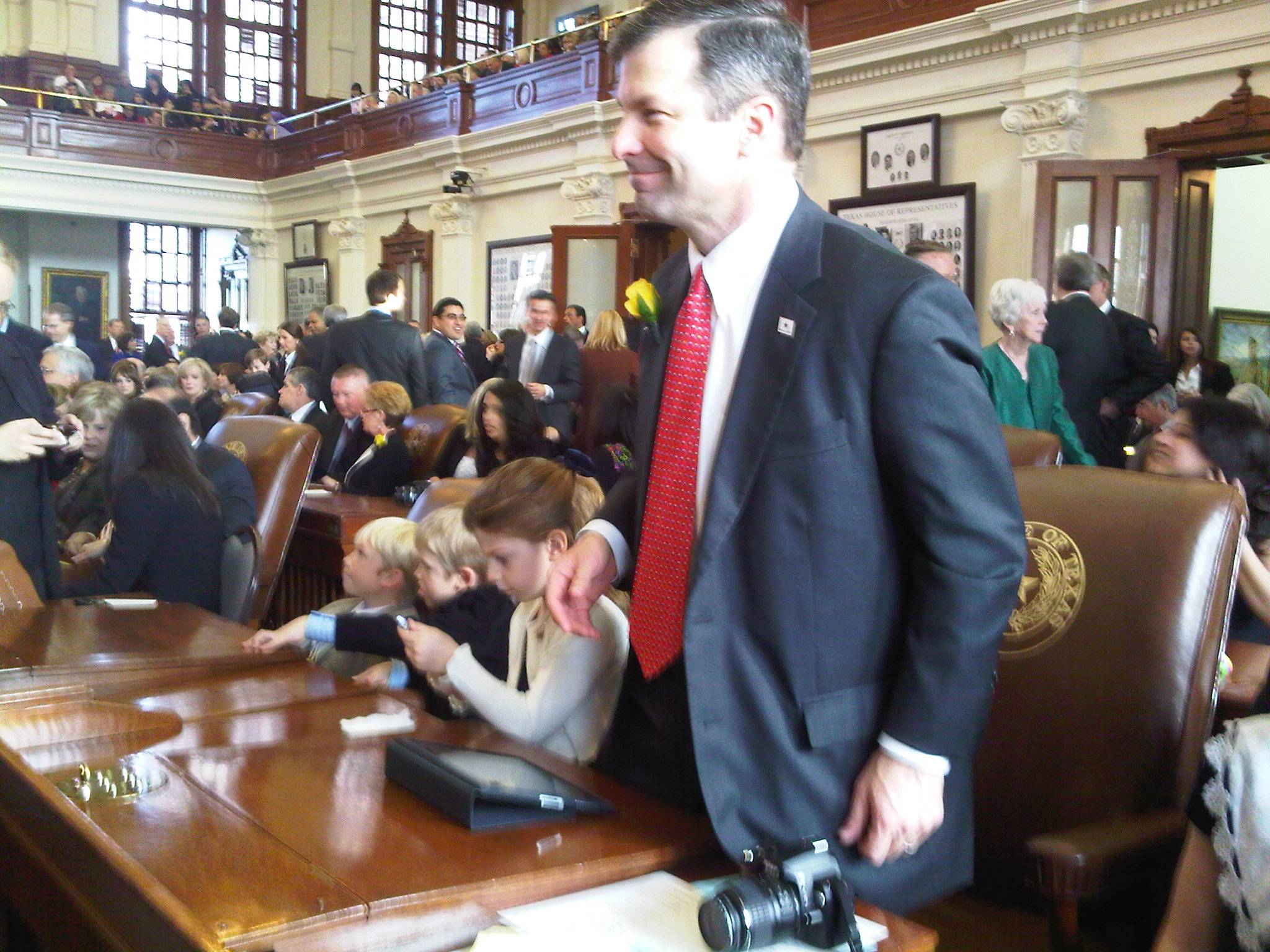 Freshman Representative David Simpson with his kids.
12:07pm - Invocation begins.
12:12pm - Secretary of State Hope Andrade says opening remarks.
12:14pm - Representative Vicki Truitt sings the National Anthem.
12:30pm - Roll call was conducted, a quorum is present.
12:34pm - The oath of office was administered to representatives elect.
12:38pm - Notification was received by House that the Senate is organized and ready to conduct business.
12:40pm - Temporary House rules for electing Speaker of House are adopted. Resolution regarding conduct is adopted. 
12:41pm - Nominations - Secretary of State shall call for nominations - process by which speaker will be elected. Rep. Bryan Hughes moves for adoption of resolution.
12:43pm - Ken Paxton gave speech. Paxton said he lost the caucus, but he gave remarks about moving toward conservatism.
12:45pm - Rep. Rob Eissler nominates Joe Straus.
12:46pm - There are no other nominations. Nominations are now closed.
12:54pm - Representative Senfronia Thompson of Harris County offers seconding remarks for Joe Straus -"We work together as Texans, and Joe Straus is the one to lead us." She says that this legislature works, it is not like congress in DC.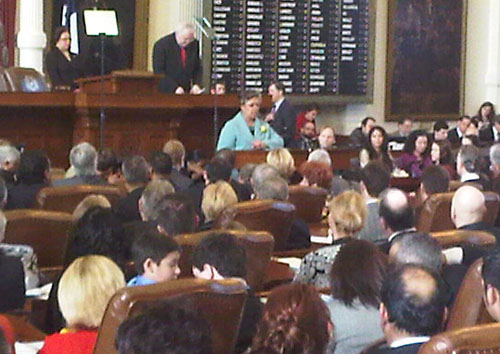 Senfronia Thompson seconds nomination of Joe Straus.
1:08pm - State Representatives Pete Gallego, Beverly Wolley, and Byron Cook give seconding speeches for the nomination of Joe Straus.
1:15pm - Rep. Cook moves that Joe Straus of Bexar County be elected Speaker of the House of 82nd Legislature by acclimation.
1:16pm - "Is there an objection?"
Yes there is an objection - Leo Berman requests a record vote
The record vote is granted.
Voting for is "aye", voting against is "nay"
Voting was conducted:
132 ayes
15 nayes
2 present and not voting
"Pursuant to laws of texas, I pronounce Joe Straus to be elected Speaker of the House of Representatives of the Texas Legislature.
1:18pm - Clerk will read the committee to escort the speaker elect to take the oath for Speaker of the House. The committee is meeting, the House stands at ease for 5 minutes.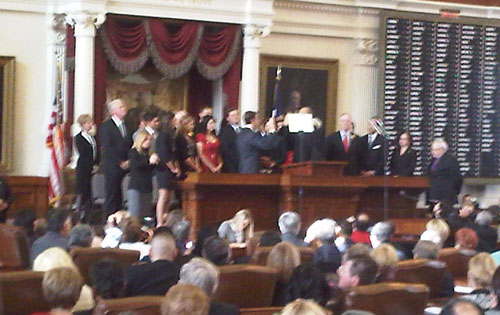 Speaker Straus takes the Oath as Speaker.
1:47pm - Straus gave remarks as Speaker.
1:53pm - Gov Perry is now speaking.
2:15pm - Conservative groups converge on the Capitol steps to rally. Groups in attendance include Grassroots Texans, Resolute Media Group, Emergent Consulting, TCOT Report, Women on the Wall, Kaufman Tea Party and Tea Party Movement 911.