Lloyd Doggett Hides Inside While Tea Partiers and Union Democratic Astroturf Scuffle Outside
The AFL-CIO (Americas Union Movement) in Austin had a reception earlier today to thank Lloyd Dogett (TX-25) for voting "yes" on the health care reform bill.
Meanwhile,Tea Party protestors assembled outside the AFL-CIO building to let their representative know that they do not want the health care reform bill he voted for and will vote him out of office in November.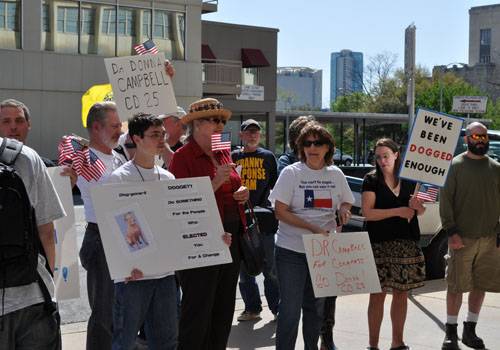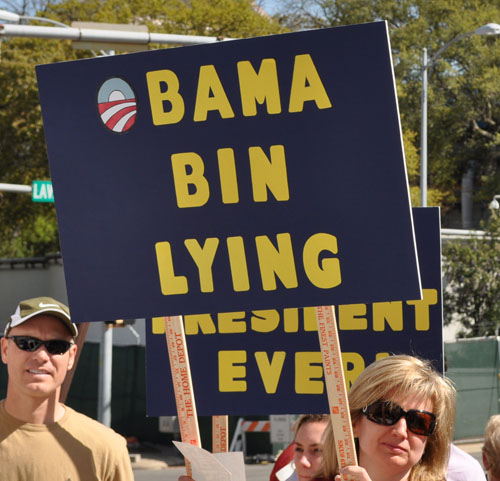 The protestors also came to show their support for Dr. Donna Campbell, who is the GOP candidate running against Lloyd Doggett in November.
There were a lot of heated arguments back and forth between the AFL-CIO workers and Tea Party protestors. The Tea Party protestors were not allowed past the sidewalk onto AFL-CIO building grounds, and anyone who dared step across was visciously accosted. One AFL-CIO woman, holding an "Organizing For America" sign, came over to taunt the Tea Partiers, yelling "social justice, social justice!" An officer mistook her for a Tea Partier (he must not have known that "Organizing For America" is an Obama cult group) that had crossed the line into the forbidden AFL-CIO territory, and the two of them start wrestling as the womans husband came over and hit the officer in the neck. Well, it looks like the union workers got a taste of the government interference that they love so much!
While all of this commotion was taking place outside, Lloyd Doggett, was hiding inside the AFL-CIO building, too cowardly to come outside and face the very people he is supposed to represent! Later, one of the AFL-CIO leaders came out and told his members to get prepared for a good photo and video op and yell "Yes, he did" for the cameras. Soon after, the AFL-CIO members were led inside to go celebrate with Lloyd Doggett. Tea Partiers were not let inside, as this was an invitation only event. There was also word (although unconfirmed) that the AFL-CIO workers were paid to attend the event.