Los Zetas Ambush in Houston - Deputy Shot by Friendly Fire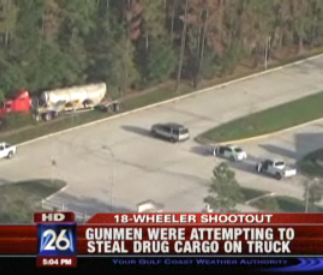 Yet another episode of drug related violence took place in Northwest Houston on Monday as members of the Los Zetas drug cartel ambushed a police confidential informant who was driving a load of marijuana. During the incident a Harris County Sheriff's Deputy was shot and injured in a "friendly fire" incident by officers of the Houston Police Department according to confidential law enforcement sources.
Court documents released this week say that Lawrence Chapa was driving the truck loaded with 300 pounds of marijuana.  The documents also state that Chapa was working for counter-narcotics task force officers as a confidential informant. My sources tell me that Chapa had been working with these officers for several months and had made numerous drug runs under their supervision. This load was different.
300 pounds of marijuana is a "nothing run". It was hardly worth the time of any narcotics trafficking organization, much less that of Los Zetas. Officers have determined this shipment was a contract hit from the very beginning. However, a different story is being told publically. Watch this Fox 26 video where the incident is described as an attempted theft of the load.
For some reason, officials want us to believe this is just a robbery of one drug cartel by another. My sources tell me this is not the case.  This was a hit on a confidential informant designed from the beginning to send a message.
I later spoke with Louis Guthrie, Director of Special Crimes and Narcotics for the Liberty County Sheriff's Department and who is currently a candidate for Sheriff of Harris County.  Guthrie said, "This shootout is the latest example of cartel related violence to hit the streets of Houston and Harris County.  As a native of Harris County I find this very disturbing and when elected as sheriff I would make this type of crime a top priority."
He went on to say, "I would dedicate a team that will not only track Cartel members in Harris County, but also target Cartel money, drugs, and property for seizures and asset forfeiture in Harris County District and Federal Courts. The vast amounts of land, vehicles, and money currently held by the Cartel is more than enough to fund a large, continuous operation without any added expense to tax payers."
Other law enforcement sources speaking under conditions of anonymity told me that Chapa picked up this "load" of marijuana along the South Texas border and was followed to Houston by Los Zetas gang members. When the truck arrived in the Houston area, the driver was informed of a change in the delivery destination. The new destination was a near "dead end" road (Holister north of Bourgeois). As the truck approached the new destination, it was approached by several vehicles who opened fire on Chapa, killing him instantly.  Deputies who had been hanging back as the truck turned up the dead end road responded quickly and engaged the Los Zetas cartel.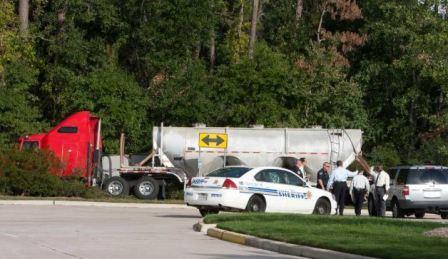 Drug Shootout Scen Photo by James Nielsen
One deputy who was working in plain clothes went to the trunk of his unmarked vehicle and pulled out his rifle to use in the engagement. About this time, a Houston police officer mistakenly determined the deputy was part of the cartel hit squad and challenged him to put down his weapon.  The deputy told the officer he was a cop but the officer opened fire discharging 6-8 rounds.  One of which struck the deputy in the leg, just above the knee. He is recovering well in the hospital and is expected to return to his work with the multi-agency "High Intensity Drug Trafficking Area Task Force". Because of this, his identity remains confidential.
One member of the drug cartel was shot and killed by law enforcement.  A second who opened fire on a deputy in his vehicle was struck by that vehicle and was treated for injuries. Four members of the gang were taken into custody and have since been charged with Capital Murder. The four men arrested — Fernando Tavera, Eric De Luna, Ricardo Ramirez and Rolando Resendiz — appeared in court in Houston on Wednesday. 
All of the men besides Tavera are Mexican citizens.  KHOU (CBS 11) says the three Mexican citizens are in this country illegally. I will update this story when that information becomes confirmed.  Law enforcement has not officially linked the four men to the Los Zetas cartel.  But my sources have stated they are, in fact, members of the Los Zetas cartel.
Eric De Luna has admitted he planned the operation and Fernando Tavera has admitted he killed Chapa.
All of the men had prior criminal records.  De Luna was currently out on a $40,000 bail bond from an aggravated assault with a deadly weapon charge was filed in October. If, in fact, De Luna is an illegal alien, why was he given bond on a violent crime of this nature?  This is a question that Sheriff Garcia will need to answer.
This story is yet another example of the consequences of our unsecured border. Our president and even Harris County Sheriff Adrian Garcia want us to believe the border is secure and cartel crime has not crossed over the border.  This event was not a drug deal gone bad.  It was, in fact, a contract hit that was intended to take place on the streets of Houston.  The Los Zetas gang is sending a message that they are here and they are serious about moving their drugs into our community.  The assassination of a confidential informant in such a public manner shows their intent. This could have easily occurred in an isolated location in South Texas.  But it did not. Los Zetas brought this violence directly to Houston.  They brought it with a purpose. They brought it to send a message. The brought it to demonstrate a message of terrorism. A shootout near a suburban neighborhood is a deliberate act of terrorism.
It is time we send a message back to the cartels. Houston is our city.  Harris County is our county.  Texas is our state.  And this is our country.  We must secure the border of the United States to stop this flow of drugs and terrorists into our country. Until we make a determined stand, this will only continue or get worse.