Lou Dobbs Resigns from CNN: Could His Harsh Immigration Rhetoric be to Blame?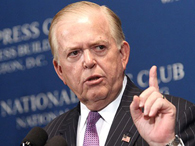 A couple of weeks ago, CNN played a four-hour special called "Latino in America."
By 2050, the U.S. Latino population is expected to nearly triple. CNN's Soledad O'Brien explores how Latinos are reshaping our communities and culture and forcing a nation of immigrants to rediscover what it means to be an American.
This documentary helped fuel a cry from activists, calling on CNN to fire its well-known anchor, Lou Dobbs for his fiery anti-immigration rhetoric.
An array of minorities held small protests in New York and other cities on Wednesday, the first night of CNN's presentation. They are trying to highlight what they say are years of lies about immigration by Mr. Dobbs, who anchors the 7 p.m. hour on CNN.
Critics claimed that it is hypocritical for CNN to "woo Hispanic viewers with a prime-time documentary," while at the same time giving Lou Dobbs his own nightly show to rant about his exaggerated, myth-based views on immigration.
Well it looks like the grassroots effort may have worked. Lou Dobbs announced his resignation from CNN last night.
The surprise announcement by Dobbs, whose fervent opposition to illegal immigration has come to define his career, stunned most staffers at the network he helped launch in 1980.
Perhaps Dobbs realized that his harsh immigration rhetoric was out of touch with today's GOP!