May Day Immigration Reform Protests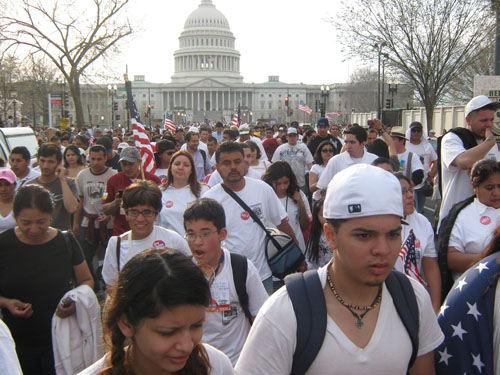 Protesters gathered around the nation today to rally and call Congress to enact on immigration reform and to show anger toward Arizona's tough new law, SB 1070. According to the The New York Times:
The protests added to a widening wave of response to the Arizona law, with government agencies and organizations in other states canceling business in Arizona, and the Alpha Phi Alpha Fraternity, a large African-American organization, canceling plans to hold its annual convention in Phoenix in July.
Organizers exuberantly predicted that hundreds of thousands of people would turn out for the rallies, but the police in several cities said they were planning for much lower numbers.
. . . The Arizona law makes failure to carry immigration documents a crime and also makes it a crime to transport groups of illegal immigrants. The law has not yet taken effect, and several legal challenges have been presented to block it.
That clause in the law alarmed some Latino churches in the state, who said they could be arrested for transporting parishioners. Many churches, including Catholic, Protestant and evangelical Christian denominations, said they were planning events for Saturday.
Obama gave a commencement speech in Ann Arbor this morning as thousands of immigration reform supporters rallied outside.
During the rally, supporters were addressed by faith and labor leaders, as well as the "Avenue of Dreams" marchers. The group of undocumented students and supporters completed a three-day trek from Detroit to Ann Arbor, and were greeted with thunderous applause.
One of the Avenue of Dreams marchers quoted:
"With every step, we wanted to remind President Obama: Friends keep their promises. We love this country and want to give back by becoming the next generation of doctors, lawyers and engineers. But we can't because of a simple piece of paper. President Obama, let our dreams into that stadium this year."