Meet Anonymous
Is "Anonymous" behind the Occupy Wall Street protests, and who or what is Anonymous anyway? Brandon Darby explains.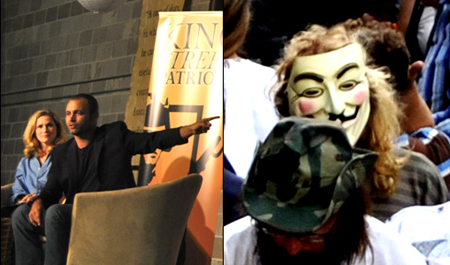 Anonymous is a "hacktivist" group, that is, hackers + activists, that have also been described as an anarchic, chaotic, global brain or internet-based superconsciousness. Recently Anonymous hacked into several different police databases and leaked sensitive personal data, among them passwords, names, addresses, phone numbers and social security numbers of several police departments and associations, apparently in support of the Occupy Wall Street movement. They have also claimed credit for attacking child pornography sites, taking them down and exposing names of pedophile users.
On Monday, October 24, Citizen Patriot Response founder Brandon Darby spoke at King Street Patriots and linked Anonymous to the recent Occupy Everything protests. He also played the computer generated voice of Anonymous that mechanically recited a growing list of cities and towns under the influence, control or having the presence of the movement. Oh and that Guy Fawkes mask from "V for Vendetta"? Thats a mask that is often used by Anonymous.
Transcript of Anonymous: Hello, we are Anonymous. If you have not heard about our brothers and sisters on Wall Street, we are currently experiencing our own Tahrir Square moment. However, this is not enough. We have other cities that we the people must occupy peacefully to let the world know the people are winning. Next month marks a momentous shift in our history. Everyone, everywhere will be occupying their towns, their capitals, and other public spaces. Already we have made tremendous progress; in just a little over a week, occupy initiatives have sprung up in over 30 U.S. cities. This is now bigger than you or me, it is about us, a collective 99% that will no longer stand for the corruption, greed and inequality that is rampant within our governing bodies. Spread this message like the plague.
October 2nd marks the international day of nonviolence, as well as civil rights leader Mahatma Gandhis birthday. On this memorable occasion we will carry forth our own passive resistance against the machine which keeps us down. On this day, we will occupy LA with it bringing the wave of resistance to the west coast. This is part of a global movement; the tyrants of London have banned public assembly and marching. The media refuses to acknowledge our presence. This kind of action only further moves our hand. The more authoritarian they act, the more we will resist.
What are our demands, you ask? They are simple, they are the same as yours. We do not forgive, we do not forget, we are silent no more.
Chicago, Cleveland, Columbus, Indiana, Indianapolis, Madison, Kansas City, Michigan, Minnesota, Oklahoma City, Omaha, St. Louis, Stillwater, Tulsa, Youngstown, Binghamton, Boston, D.C., New Jersey, Philadelphia, Vermont, Atlanta, Lexington, Mississippi, Nashville, New Orleans, Orlando, Tampa, Dallas, Houston, Phoenix, Denver, Las Vegas, Olympia, Portland, Sacramento, San Diego, San Francisco, San Jose, Seattle and Los Angeles.
We are everywhere. We are legion. We are Anonymous. Expect us.