Most Recent Rasmussen Report Shows All Three GOP Candidates Beat Bill White For Texas Governor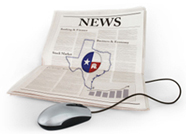 According to a February Rasmussen Report that just came out today, GOP primary candidate Debra Medina, along with Kay Bailey Hutchison and Rick Perry, will beat Bill White for Texas governor in the general election. This contrasts with a January Rasmussen Report that showed Debra Medina would lose if she faced off on-to-one with Democrat Bill White. February's report says:
The surprise, as in the new Rasmussen Reports survey of the GOP gubernatorial primary, is the growing strength of Debra Medina, a businesswoman active in the state's Tea Party movement. Medina now edges White 41% to 38%. Last month, White had a 44% to 38% lead on her. In this contest, six percent (6%) favor some other candidate, but a more sizable 16% are undecided.
Among the three GOP primary candidates, incumbent Rick Perry is in the lead. See the results below:
General Election
| Candidate | Percentage |
| --- | --- |
| Rick Perry | 48% |
| Bill White | 39% |
| Other Candidate | 5% |
| Not Sure | 8% |
General Election
Candidate
Percentage

Kay Bailey

Hutchison

49%
Bill White
36%
Other Candidate
7%
Not Sure
7%
General Election
| Candidate | Percentage |
| --- | --- |
| Debra Medina | 41% |
| Bill White | 38% |
| Other Candidate | 6% |
| Not Sure | 16% |
GOP Primary Election
Candidate
Percentage
Rick Perry
43%

Kay Bailey

Hutchison

29%
Debra Medina

16%
Not Sure
11%