My Thoughts Regarding Recent Comments on Abortion and Immigration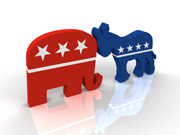 In a comment on Lauro Garza's most recent blog post about how the Democrats seized upon the Pro-Life rhetoric in an effort to redefine the term for their own advantage and to the GOP's detriment, it says
...the law of the land allows a woman the choice to decide what is right for her. It is not my position to condone abortion because I do not, however, until the law is changed, that is how it has to be. The [Republican Party] should ease off this position, it is too galvanizing and unproductive to the larger tent.
The comment also talks about the need for the Republican Party to take a position and get folks to promote it. Now wouldn't the Democrats would just love that! A suggestion like this clearly indicates why so many people have "no clue" why legal Hispanics moved from Bush in '04 to Obama in '08!
This comment also brings light to the common perception the public has in that all illegal immigrants should be deported. Many people look past the number of jobs being performed by illegal workers. Who is pouring the concrete, roofing the buildings, sheet rocking, excavating, landscaping, cooking, serving tables, cleaning hotel rooms, etc? A recent study by the CATO Institute, found that U.S. citizens' average incomes have increased the most in areas where the highest number of illegal immigrant workers are employed? This is not to say that being here illegally is okay, but we must think before making such rash decisions. Furthermore, more American citizens are retiring every year than are entering the work force.
Regarding the statement that Republicans should let up on abortion, is that an argument you want of someone representing the Republican Party? Since Roe vs. Wade, America has "slaughtered" more than fifty million of what could have been American born workers, because "it is the law."
It is my hope and prayer that the Republican Party stay focused on ending the slaughter of the unborn children! It is also my prayer that people will become more informed and embrace a sensible immigration policy.
May God forgive us our trespasses!