Cornyn Statement Ahead of President's Joint Address to Congress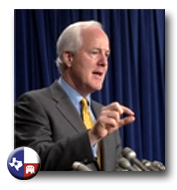 Earlier today, I previewed on Fox News President Obama's address to a joint session of Congress tonight.
The President's policies during the first two years of his Presidency have not only been ineffective in dealing with the problem of high joblessness and trying to get people back to work, they have actually made things worse.
We don't need more government jobs, we need the private sector to grow the economy and create jobs.
So more of the same is simply not an option, and frankly I'm starting to believe he really doesn't understand what the private sector needs in order to create jobs.