(VIDEO) New York Times Reporter Helps Organize Occupy Wall Street... like Walter Duranty shilling for Stalin in 1930's?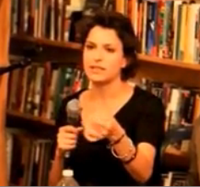 Andrew Breitbart's BigGovernment.com has picked up on a newly-discovered video showing New York Times reporter Natasha Lennard speaking in a left-wing Occupy Wall Street discussion group.
In the video, Lennard is seen participating as a featured speaker in a discussion among anarchists, communists, and other radicals as they examine the theory, strategy and tactics of the Occupy protests.
The discussion was held at the left-wing Bluestockings book store in New York on Friday, Oct. 14, and filmed and promoted by the radical magazine Jacobin. The audience included participants in, and apparent organizers of, the Occupy Wall Street demonstration in lower Manhattan.
Citizen Patriot Response founder Brandon Darby comments about this development:
It's unfortunate to see that the New York Times is apparently repeating the unfortunate issues that they had with Walter Duranty. Duranty was a New York Times Bureau Chief who shilled for Joseph Stalin and helped the New York Times cover up Stalin's purges.

It's a shame that someone as pretty and as articulate as Natasha Lennard would dirty herself by making her name forever synonymous with Walter Duranty and participating in the New York Times apparent effort to engineer a better society from their editorial room.
Walter Duranty served as Moscow bureau chief of the New York Times from 1922 through 1936 and defended Stalin's notorious show trials (full PDF document by Jacob HeilBrunn here). He was criticized for his denial of widespread famine in Russia and calls have been made to posthumously revoke his Pulitzer prize. In 2003, Mark van Hagen, a Columbia University history professor, said "For  the sake of The New York Times' honor, they should take the prize away."   Duranty also made it onto Orwell's List of "crypto-communists" that George Orwell, author of 1984, submitted to the Information Research Department, a department of the British Government's Foreign Office.
Perhaps this isn't Pulitzer prize material, but it may well be a throwback to 1930's style sympathizing with communists.  The video clip below suggests Natasha Lennard identifying with the Occupy Wall Street protesters in her answer to an audience member's question.
The video below shows the entire panel discussion:
Brandon Darby will be speaking tonight at the King Street Patriots headquarters in Houston about the Occupy Wall Street movement. "You will be amazed at how much there is to learn. The proof will shock you!" Click here for more information.