The Other new Arizona Law…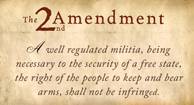 With all the furor over the Arizona Illegal Immigration Enforcement Law recently passed, another new law in Arizona passed without much fanfare. Effective July 29th of this year, Arizona citizens will be allowed to carry a concealed weapon without a concealed carry permit.
The 2nd Amendment of the US Constitution guarantees the right of American citizens to "keep and bear arms". The new Arizona law re-affirms the right of Americans in Arizona to defend themselves with a concealed weapon. Arizona will continue to issue Concealed Carry Weapons (CCW) licenses to qualified citizens. One might ask why someone would want a Arizona CCW license when they are allowed to concealed carry without a license. There are two good reasons for this. First would be for travel purposes. The Arizona CCW license has reciprocity with 32 other states. This affords Arizona citizens the ability to exercise their 2nd Amendment rights without question in these other states. Additionally, by having a AZ CCW license, citizens can forgo the NICS background check when purchasing new firearms as their background has already been thoroughly checked. The training for an Arizona CCW is also a good idea to make certain the citizen is familiar with applicable Arizona laws regarding the use of deadly force and prohibited places of carry.
Arizona joins Alaska and Vermont in passing "Constitutional Carry" laws which allow its citizens to carry a firearm open carry or concealed, with our without a license.
Should Texas follow the lead of these other states by passing its own "Constitutional Carry" law? At the Republican Party of Texas Convention in Dallas earlier this month, I asked that question to Texas Land Commissioner Jerry Patterson. He said he would support this kind of legislation in Texas. While serving as a Texas State Senator, Jerry Patterson sponsored the legislation that brought Concealed Carry rights to Texans. Patterson also supports open carry in Texas asking, "Is an openly carried gun more dangerous than a concealed one? I don't think so."
The upcoming legislature of Texas will face many new challenges. Many people will be asking Texas to follow the lead of Arizona in regards to immigration enforcement. I hope Texas will follow the lead of Arizona on this issue as well.
What say you?