Pastors Speak Out On Immigration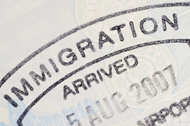 "Thank God" for the pastors of the Houston Area Pastor Council, who are speaking out on immigration reform, and those that are following their example across America!
Most pastors have spoken out on marriage and abortion, but like our elected officials, many have remained silent regarding the immigration debate.
Senator John Cornyn can tell you first hand, every time he agrees to join in meaningful dialogue regarding immigration, he is immediately, and without basis, accused of promoting amnesty! It is more and more evident that the screamers, those that support enforcement only, thus mass deportation, are in fact the minority!
Yet they continue to divide. "What part of illegal don't you understand?" goes the mantra. According to recent polls cited in yesterday's Houston Chronicle the "screamers" are the minority.
The polls clearly indicate that 82% of Americans who support Arizona's law also support a pathway to citizenship for illegal immigrants! Now let's be clear, I do not support a pathway to citizenship for illegals, with the exception of military service, but I do support some sort of legal status for needed workers.
The Houston Chronicle article is on point. Elected officials should be taking advantage of Americans' overwhelming support of an immigration solution that includes a means of legalization for illegal immigrants. Again, I thank God for these pastors and for their leadership! It is my prayer that more of our elected office holders will follow their example!