Pedernales Bend, Steiner Ranch in Need of Help From Wildfire Destruction, Dianne Costa Statement on Wildfire Situation in CD-25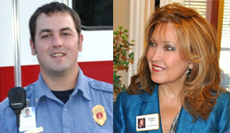 While the news media coverage of the Texas wildfires is starting to die out, the situation is still hot with approximately 20 new fires a day being reported over the past two weeks. Two places that are in need of great help, but have not received much attention, are Pedernales Bend, Spicewood, and Steiner Ranch, all located in Travis County and also lie within Texas U.S. Congressional District 25. Donations to help the families who lost their homes can be sent to Grace Outreach Church (Memo: Spicewood Fire Victims) and Bee Cave Methodist Church.
Lieutenant Jason Atkin of the Pedernales Fire Department (and Local IFF 4820 President), Travis County ESD #8, described the situation on Thursday. The Pedernales Bend and Spicewood area lies west of Austin near Lake Travis and has had 6,500 acres destroyed by wildfires. Lt. Jason Atkins statements are in the video below:
Dianne Costa, candidate for Texas Congressional District 25, issued a statement on the wildfire situations in CD-25, the need to be vigilant about the continuing threat of wildfires throughout the district, and about the firefighters, first responders, civil servants and volunteer organizations who are rising to help those in need.
Dianne Costas statement follows:
This is a time for Texans to be vigilant about the threat of wildfires wherever we are. Just in areas within our own Congressional District 25, we have already seen 67 homes destroyed in Pedernales Bend (Spicewood) in Travis County; 35 homes destroyed and over 1000 homes evacuated in Steiner Ranch in Travis County; and seven homes lost in Lake Whitney in Hill County.
Fire destruction from the Pedernales Bend and Spicewood area
We must also work together as concerned citizens to provide support, assistance and supplies to families and individuals who have been impacted by the wildfires. It is in these perilous times that we see the true spirit of the American people put into action. We are blessed to have our firefighters, first responders, civil servants and volunteer organizations rise to the call of those in need. I applaud efforts such as those demonstrated by Citizen Patriot Response in organizing efforts among groups and individuals to provide supplies and assistance. 
We are also faced with further consequences of the drought. How are our ranchers and farmers able to feed and water their cattle and water their farms? At my family ranch in Hamilton, our tanks are dry, the fruit orchard and trees, we painstakingly planted, are dead.
This is greater even than the State of Texas, as seen when meeting with Pastor Escamilla in Alvarado, Texas. He described how it came about that he received necessary hay for his congregations cattle all the way from Iowa. As he recounted the story, his face softened from a smile when he shared "it's still not enough. It's too expensive to keep trucking the hay from other states. Friends and neighbors are selling cattle for much less than normal, and while that may mean better meat prices for consumers, what happens next year when cattle is sparse?"
A similar story was heard when visiting Cranfills Gap in Congressional District 25. Horses are left miles from their homes in the middle of the night because owners cannot afford to feed them. It is useless to try and sell them because the new owners would be experiencing the same issues.
It is not enough to just grieve over this disaster. We need a call to action. While there is no easy solution, we can still have a discussion of possible solutions.
Short Term Solutions:
Temporary production of Hay on Federal Land to increase supply and stabilize prices.
Monitoring of national herd to ensure sufficient stock and genetic diversity to recover.
Transportation of cattle to non-drought effected areas in Wyoming, Montana, Iowa and other states. Perhaps even grazing on federal lands.
We could explore reduction of trade impediments to exportation of American beef to increase market and prevent drop in beef price due to oversupply.
Long Term Solutions:
Increasing the amount of irrigable land through federal or state irrigation projects.
Increased use of warm-season perennial grasses, such as forage sorghum, which use 40%-50% less water than silage corn and are thus more drought resistant, but is less nutritious.
At the end of the day, we need to see these events as a learning experience. We need to be mindful of preventive measures that are available so that we are not faced with reactionary measures in times of greatest need.
---
Below are pictures of fire destruction from the Pedernales Bend and Spicewood area: