Pete Sessions on One Year Anniversary of ObamaCare Bill Signing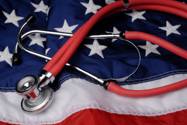 Today I released the following statement regarding the one-year anniversary of President Barack Obama signing ObamaCare into law:
One year ago today, President Obama chose to defy the will of the American people when he signed into law the government-takeover of health care. In just one year, American families and businesses have already witnessed firsthand the disastrous impact of ObamaCare – higher health care costs, fewer choices, unsustainable Medicare cuts and government interference in the physician-patient relationship.
ObamaCare injects uncertainty into the American economy by imposing job-destroying regulations and tax increases on our small businesses during a time when they can least afford it. That is why House Republicans have already taken action to repeal the government-takeover of health care in its entirety, as well as repeal its onerous 1099 mandate. Voting to repeal the 1099 mandate is one of many steps House Republicans will take to ensure that the federal government is empowering the free enterprise system – not placing unnecessary burdens on job creators.
House Republicans will continue to stand with the American people in the fight against a government-takeover of our health care system. We will continue pursuing repeal and defunding opportunities to reach our ultimate goal: a full repeal of ObamaCare. I remain committed to providing common-sense solutions that will reduce costs while providing every American with access to quality care of their choice.