Politics or People: What did Chet Edwards Choose?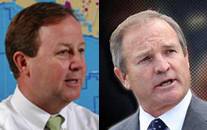 I want to first say that one of my campaign strategies is to not start a negative campaign and focus on what an opponent did or did not do, but when a fellow servicemen is put in the cross of fire, I must apologize and say that I break my own rule.
I had the opportunity to meet with an individual who was called up for active duty and served in Iraq. He currently lives in Navasota and was completing his college degree. He emailed me and wanted to share a personal concern he had regarding the military's healthcare system. His wife was pregnant with their first child three years ago, and as a good soldier, he did what he was asked to do and get preapproval from Tri-care for the delivery of their child. The facility they chose was one located in Spring, Texas and appeared to provide optimum care. The family was very satisfied with the care they received and Tri-care paid for everything except for the facility's charges.
As with many bureaucracies there are is always some government red tape and Tri-care as an HMO is no different. The family filed all the paperwork that was requested but continued to get their request denied. The family then elected to use Congressional intervention and asked their local Congressman Chet Edwards for assistance. Congressman Edwards' office pursued to look into it and when all was said it done his office sided with Tri-care. The rational was that the facility did not appear to have a Memorandum of Understanding of how they would respond to a medical emergency if there was a complication with the delivery. I looked into the facility and noted that they were accredited with the Commission for the Accreditation of Birthing Centers. If you are familiar with accreditation you will note that it is automatic that you have these emergency procedures in place and they usually take the form of an MOU or it is documented in your Operating Instructions.
What is the most disturbing about this, as well as many other programs that are in existence, is that we have empowered through legislation a Fourth Branch of the Federal Government known as bureaucracies. Bureaucracies at all levels regulate, dictate, and control our liberties and appear to control our elected officials as well. Congressman Edwards for whatever reason chose to side with a federal bureaucracy versus supporting his constituent and researching CFR 32 Part 199 on the process of how to formally appeal Tri-care decision. Congressman Edwards represents a vast majority of how our elected officials are at the will of administrative bureaucracies that they created. It is these bureaucrats that have taken away our liberties and unfortunately in most cases our hope.
I therefore ask that if Congress Edwards cannot understand and demonstrate true leadership in the halls of Congress then we should send someone who is willing fight the fight. Politics should not interfere with the needs and will of the people and our politicians should not have to choose politics over the people. Congressional candidate Bill Flores is running against Chet, and I highly recommend that individuals in this district remind Congressman Edwards that if he cannot lead, then he needs to get out of the way. Our servicemen and women have sacrificed enough to protect our liberties and should not have to fight with our legislators to get the healthcare that they were promised when they volunteered to serve!