President Obama Has Presided Over a 104% Increase in Gas Prices, Bumping Jimmy Carter Into Second Place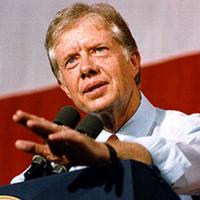 The National Republican Congressional Committee (NRCC) is a political committee devoted to maintaining and increasing the 239-member Republican majority in the U.S. House of Representatives.
President Obama and the Democrats' war on energy has earned them yet another dishonorable distinction: presiding over the highest increase in gas prices since Jimmy Carter:
(Series ID: APU000074714, "Gasoline, Unleaded Regular, Per Gallon/3.785 Liters," Bureau of Labor Statistics, Accessed 2/28/2012; "AAA's Daily Fuel Gauge Report," AAA, Accessed 4/8/2012)
AND JOE BIDEN SAID WHAT? "I THINK OUR ENERGY POLICY IS THE BEST IT'S EVER BEEN": ("Biden: 'Our Energy Policy is the Best It's Ever Been,'" Real Clear Politics, 4/4/2012)
84% OF CONSUMERS FORCED TO CHANGE LIFESTYLE BECAUSE OF GAS PRICE HARDSHIP: "Nationally, 84% of those responding to an AAA survey released earlier this month say they've changed their routines as a result of soaring fuel prices." (Chris Woodyard, "High Gas Prices? Some Consumers Just Say No," USA Today, 3/30/2012)
Worst of all, gas prices may not be done rising. Yet Democrats continue to oppose increasing American energy production through projects like they Keystone XL pipeline that would increase American energy independence and create thousands of shovel-ready jobs:
OBAMA HELD PHOTO OP IN OKLAHOMA TO CLAIM HE WILL "PUSH AGENCIES ON KEYSTONE PERMIT"… WHICH HE BLOCKED, REPEATEDLY: ("Obama to Push Agencies on Keystone Permit," Reuters, 3/21/2012)
20,000: THE NUMBER OF SHOVEL-READY JOBS FROM KEYSTONE PIPELINE BLOCKED BY OBAMA: (Editorial, "Keystone Cop-Out," The Wall Street Journal, 11/11/2011)
130,000 JOBS: THE LONG-TERM JOBS IMPACT OF THE KEYSTONE PIPELINE, ALSO BLOCKED BY OBAMA: "Many of those 20,000 jobs on the construction of the pipeline would have been filled by skilled union members. Eventually, the completed pipeline was expected to result in as many as 130,000 jobs, many of them on the upper Texas Coast, where the heavy oil would be refined into 700,000 barrels of oil daily." (Editorial, "Keystone Pipeline is the Wrong Call," The Houston Chronicle, 11/11/2011)
LOCAL JOB CREATORS AND WORKERS, OKLAHOMA STATE PAPER PROTESTED OBAMA'S POLITICAL GIMMICKRY IN OKLAHOMA: "But he'll once again be greeted by protestors, this time in the form of fossil fuel industry officials and workers. The Oklahoman isn't rolling out the welcome mat either, with the newspaper running three separate op-eds today criticizing Obama's energy policies." (Patrick Reis, Politico's "Morning Energy," 3/21/2012)
AN EXPLANATION: WHITE HOUSE OPTS FOR "MEDIA BLITZ" TO "CONTAIN THE DAMAGE" FROM THEIR ANTI-ENERGY POLICIES: (Darren Samuelsohn and Darren Goode, "Obama's Media Blitz on Gas Prices," Politico, 3/12/2012)
OBAMA ACTIVELY "LOBBIED DEMOCRATS" IN MARCH TO BLOCK KEYSTONE APPROVAL, DEFERRING TO RADICAL INTEREST-GROUPS: "Obama lobbied Democrats earlier this month to block a GOP bid to force approval of the Keystone project, which environmentalists have rallied against." (Dina Cappiello, "Obama to Fast-Track Oil Pipeline, Other Projects," Associated Press, 3/21/2012)
OBAMA MADE PERSONAL PHONE CALLS TO TOP DEMS TO BLOCK KEYSTONE OUT OF FEAR OF GIVING "ELECTION-YEAR FODDER" TO GOP, NEVER MIND THE JOBS AT STAKE: (Manu Raju, "Obama Lobbying Dems Over Keystone XL Pipeline," Politico, 3/7/2012)
NATIONAL JOURNAL ANALYSIS: "U.S. ECONOMY MISSED OUT ON CREATING UP TO A QUARTER-MILLION JOBS" IN 2011 BECAUSE IT "LACKED [ENERGY] INFRASTRUCTURE": "The U.S. economy missed out on creating up to a quarter-million jobs this year because it lacked the infrastructure to capitalize on a rare divergence in global oil prices, a National Journal analysis shows." (Jim Tankersley, "A Crude Hit to the Recovery," National Journal, 11/29/2011)
INCREASING ENERGY INFRASTRUCTURE THROUGH KEYSTONE XL WOULD LIMIT PRICE SPIKES IN FUTURE: "There's no evidence that the oil industry manipulated the price spread to boost refining profits; the companies just appear to be benefiting from the nation's inability to move cheaper oil around freely. Energy industry groups say expanding America's pipeline infrastructure – including potential Obama administration approval of the Keystone XL pipeline to carry oil south from Canada – would minimize the odds of another wide price split in the future." (Jim Tankersley, "A Crude Hit to the Recovery," National Journal, 11/29/2011)
The Democrats' opposition to Keystone XL is one part of their larger none-of-the-above energy agenda that refuses to allow any new energy development whatsoever:
DEMOCRATS' WAR ON COAL:
NEW EPA REGULATIONS WOULD "END THE CONSTRUCTION OF CONVENTIONAL COAL-FIRED FACILITIES IN THE UNITED STATES": "The Environmental Protection Agency issued the first limits on greenhouse gas emissions from new power plants Tuesday, a move which could end the construction of conventional coal-fired facilities in the United States." (Juliet Eilperin, "EPA Imposes First Greenhouse Gas Limits on Power Plants," The Washington Post, 3/27/2012)
"THIS STANDARD EFFECTIVELY BANS NEW COAL PLANTS": "Industry officials and environmentalists said in interviews that the rule, which comes on the heels of tough new requirements that the Obama administration imposed on mercury emissions and cross-state pollution from utilities within the past year, dooms any proposal to build a coal-fired plant that does not have costly carbon controls.
" 'This standard effectively bans new coal plants,' said Joseph Stanko, who heads government relations at the law firm Hunton and Williams and represents several utility companies. 'So I don't see how that is an 'all of the above' energy policy.'" (Juliet Eilperin, "EPA Imposes First Greenhouse Gas Limits on Power Plants," The Washington Post, 3/27/2012)
13% OF COAL POWERED ENERGY BEING SHUT DOWN BECAUSE OF NEW RULES: "The proposal does not cover existing plants, although utility companies have announced that they plan to shut down more than 300 boilers, representing more than 42 gigawatts of electricity generation — nearly 13 percent of the nation's coal-fired electricity — rather than upgrade them with pollution-control technology." (Juliet Eilperin, "EPA Imposes First Greenhouse Gas Limits on Power Plants," The Washington Post, 3/27/2012)
UNITED MINE WORKERS CHIEF: "LISA JACKSON SHOT US IN WASHINGTON": "The coal industry will suffer the same fate as Osama bin Laden under new climate regulations proposed by the Environmental Protection Agency, the head of the United Mine Workers of America said this week.
" 'The Navy SEALs shot Osama Bin Laden in Pakistan and Lisa Jackson shot us in Washington,' Cecil Roberts, president of the powerful union, said during an interview Tuesday on the West Virginia radio show MetroNews Talkline." (Andrew Restuccia, "Mine Union Boss: Coal Industry Could Suffer Same Fate as Bin Laden," The Hill, 4/4/2012)
MORE: NEW RULE IS "AN ALL-OUT… DECISION BY THE EPA THAT WE'RE NEVER GOING TO HAVE ANOTHER COAL-FIRED FACILITY" IN AMERICA: (Andrew Restuccia, "Mine Union Boss: Coal Industry Could Suffer Same Fate as Bin Laden," The Hill, 4/4/2012)
JUDGE RECENTLY SLAMMED EPA FOR "MAGICAL THINKING" IN TRYING TO AXE COAL PERMIT: "A federal judge slammed an Obama administration gambit to revoke mountaintop mining permits Friday, saying the EPA invented authority where there was none.
" 'EPA resorts to magical thinking' to justify nullifying permits issued by the U.S. Army Corps of Engineers for Arch Coal Inc.'s Mingo Logan mine in West Virginia, wrote U.S. District Judge Amy Berman Jackson in Washington, D.C." (Erica Martinson, "Judge Hits EPA For Axing Coal Permit," Politico, 3/23/2012)
THE DEMOCRATS' WAR ON NATURAL GAS AND OIL:
REPORT: "EPA REGS COULD HAMPER OIL, NATURAL GAS PRODUCTION, REPORT SAYS": (Ben Wolfgang, "EPA Regs Could Hamper Oil, Natural Gas Production, Report Says," The Washington Times, 3/15/2012)
OIL PRODUCTION COULD DROP 37%, NATURAL GAS PRODUCTION COULD DROP 11%: "Domestic oil and natural gas production could plummet if proposed Environmental Protection Agency regulations, designed to limit emissions from well sites, go into effect later this year, industry leaders said Thursday.
"The natural gas extraction technique known as 'fracking' would be hardest hit, and fuel extracted via the popular process would drop by about 52 percent, according to a new study commissioned by the American Petroleum Institute. Total gas production would decrease by about 11 percent, while domestic oil production could fall by as much as 37 percent, the report says." (Ben Wolfgang, "EPA Regs Could Hamper Oil, Natural Gas Production, Report Says," The Washington Times, 3/15/2012)
"UNTOLD STORY" BEHIND RISING GAS PRICES IS REFINERIES BEING DRIVEN OUT OF BUSINESS "IN NO SMALL PART BY COSTLY EPA RULES": "The untold story behind soaring pump prices is that major U.S. refineries are going out of business and creating at least regional shortages thanks in no small part to costly EPA rules." (Editorial, "EPA's Heavy Hand Seen In Gas Crisis," Investor's Business Daily, 3/22/2012)
OVER LAST SIX MONTHS, THREE REFINERIES SUPPLYING HALF EAST COAST GASOLINE HAVE CLOSED: "Over just the past six months, three refineries supplying about half the gasoline, diesel and jet fuel to the East Coast have closed, including two owned by Sunoco Inc. They say they simply cannot make money anymore." (Editorial, "EPA's Heavy Hand Seen In Gas Crisis," Investor's Business Daily, 3/22/2012)
IHS STUDY: OBAMA ADMIN SLOWWALKING PERMITS AFTER MORATORIUM OFFICIALLY ENDED: "A study by the business-consultant firm IHS found that the federal government issued 51 new drilling permits in the year following the lifting of the drilling moratorium. That was down from 157 annual permits approved before the regulations took effect." (Bill McMorris, "Obama's Energy Slowdown," The Washington Free Beacon, 3/13/2012)
RECENT ISSUANCE OF NEW LEASES AT ONE-THIRD OF HISTORICAL AVERAGE: "According to the Greater New Orleans Gulf Permits Index for January 31, over the previous three months the feds issued an average of three deep-water drilling permits a month compared to the historical average of seven. Over the same three months, the feds approved an average of 4.7 shallow-water permits a month, compared to the historical average of 14.7." (Editorial, " 'Stupid' and Oil Prices," The Wall Street Journal, 2/24/2012)
OFFSHORE LEASING MUCH MORE DIFFICULT, SLOWER UNDER OBAMA POLICIES: "Approval of an offshore drilling plan now takes 92 days, 31 more than the historical average. And so far in 2012, an average of 23% of all drilling plans have been approved, compared to the average of 73.4%." (Editorial, " 'Stupid' and Oil Prices," The Wall Street Journal, 2/24/2012)