Life Chain San Antonio 2015
The San Antonio Family Association sponsored LIFECHAINSA 2015, attracting over 500 prolife advocates on Sunday, October 4 for Life Chain in San Antonio. Each participant was able to pick up a sign of his choosing to hold so that he/she could be part of the Life Chain extending from Loop 410 to Basse Road on San Pedro Ave between 2-3 pm. It was an amazing sight to witness so many families, teens, church groups, and individuals come out on a Sunday afternoon to peacefully show San Antonians that defending life is still a cause to support. Over 1,500 cities participated in this annual demonstration to defend life throughout America.
In San Antonio alone there were 6,000 babies murdered by abortion in 2014. That is 16.5 unborn babies disposed of each day. According to World Wide Abortion Counter, there are 2,000 unborn babies aborted per day in the US and the yearly count will go over 1 million in 2015 alone. Imagine the loss of human potential that has been destroyed by this intrinsic evil.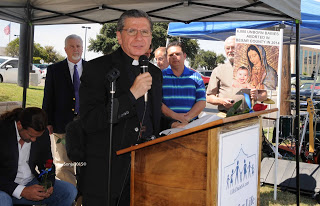 Before the Life Chain formed, pastors Dr. Stephen Branson, Joan Courtney, Warren Beemer and Archbishop Gustavo Garcia Siller all spoke in defense of the unborn and prayed to end abortion. The Archbishop reminded us of Pope Francis' message during his visit to the United States of America proclaiming the 'dignity of every human person'. His prayer was an unwavering plea for us to 'welcome life in the womb'. The following are selections from the prayer which went to the heart of the unborn, "Lord we ask you to hear our prayers in a special way for the unborn, our unborn sisters and brothers and now, more than ever before in danger of losing their lives before even seeing the light of your creation. Grant us the grace to be consistent to welcome life in the womb, may the womb welcome life in all situations. May you do what we cannot and grant us the grace to do all that we can to proclaim life in the womb."
Our society has grown cold towards the very basics of humanity; the very nature of a mother is to protect her child from all harm. We have adapted to the false concept that life is 'disposable' for the sake of the mother's 'needs' or 'wants'. What has become very evident is that so many still believe that this battle is 'political'. How can anyone believe this when lives are at stake? It still amazes me that a Catholic can utter words like, 'touchy subject' or 'I hope I don't offend anyone', when it comes to discussing Prolife. Warriors in battle know where they stand. Christians should know where they stand. We must be a consistent and loud voice for the unborn. Our generation must end abortion.
THE RED REPORT
Sonja Harris
Pray, Fight, NEVER GIVE UP!
For more photographs please go to LIFECHAINSA 2015
http://lifechainsa.com/2015-gallery/
WORLD WIDE ABORTION COUNTERS
http://www.numberofabortions.com/