Protest Cancels Ann Coulter Speech in Ottawa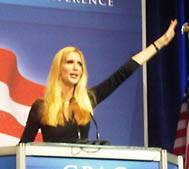 On her Canadian tour, Ann Coulter was scheduled to make a stop at the University of Ottawa to give a speech. However after 2,000 students crowded the entrance of the site, posing a security threat, the event was canceled. David Parish, writing to the Ottawa Citizen, makes a good point:
"The university officials and protesting students who used the threat of intimidation to prevent the speech decry hatred and fascism, but through their actions have embodied both."