A Push For USA PATRIOT Act Extension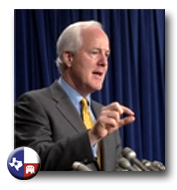 Senator Jon Kyl and I introduced legislation yesterday to renew several key components of the PATRIOT Act and address other national security needs.
Recent events around the country, including my home state of Texas, remind us just how real a threat terrorists pose to our national security. Since 2001, the PATRIOT Act has provided our nation's law enforcement- who have worked so diligently with our intelligence community- the tools they need to protect the American people from another terrorist attack.
Reauthorizing key components of the PATRIOT Act will allow them to continue their important mission. I'm pleased to join Sen. Kyl in this effort. Keeping our nation safe from another terrorist attack is a top priority, so it is imperative we pass this legislation before these critical measures expire at the end of this year.