Putting Texas Veterans to Work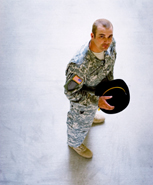 We are very pleased at the Texas Workforce Commission that our Texas Veteran's Leadership Program was honored with an in-depth feature in VFW Magazine. The Veterans of Foreign Wars and their 2.2 million members worldwide do a great job supporting our veterans, and we appreciate their help in spreading the word about our program.
The story opens with a profile of Army Master Sergeant Randall Thompson of Lubbock, Texas:
…he applied for some 60 jobs before getting his first offer. "I started looking for a job a year before I retired from the Army,' Thompson said, 'but no one wanted to talk to me until I was out."
With assistance from a veterans research and referral specialist (VRRS) through the Texas Veterans Leadership Program (TVLP), Thompson was placed in a job with Federated Insurance Co. in Lubbock.
VFW magazine noted that we based the program on the Vietnam Veterans Leadership Program that I ran for the Reagan Administration back in 1981. As VFW Magazine puts is:
TVLP is designed to help vets returning from Iraq and Afghanistan to make a successful transition back to civilian life. The program is not intended to be permanent, but rather to assist their transition during the next few years.
We are also proud of the fact that this a great example of veterans helping veterans. TVLP welcomes our veterans who have served in Iraq or Afghanistan back to Texas the right way by helping them make a successful transition to civilian life.