"Quico" Canseco for Congress (TX-23)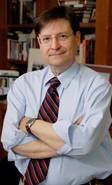 Wednesday morning, I was on "Town Talk Live" with Javier Martinez in Del Rio, Texas. The show is typically a major outlet for the Democratic party in this area but somehow I was able to secure an entire show to myself. One of the biggest issues I spoke about was the upcoming congressional race. Currently Texas Congressional District 23 is represented by Democrat Ciro Rodriquez and I am helping his opponent, Republican Francisco "Quico" Canseco, a banker and philanthropist.
Knowing that most of the listeners were most likely Democrats, I used the line of attack that "Del Rio can do and deserves better than Ciro Rodriquez". While Congressman Rodriquez is not as terrible as Congressman Chet Edwards (D - TX17), I urged voters to stop settling for mediocrity! An example I used was that of a Veterans clinic in our area. The clinic is run by a nurse practitioner that cannot offer more aid to Veterans than triage, for serious issues they still must travel to Kerrville. While this clinic is a step in the right direction towards properly rewarding our brave men and women, it goes to show the mediocrity of Congressman Rodriquez. His handling of the Veterans clinic is very much the same as his handling of the district, he believes that throwing some money around will keep us happy but I am confident that the voters of this district understand that, like the Veterans, we deserve better representation in Congress.
I am confident that Mr. "Quico" Canseco is the person to provide Del Rio and this district the representation we deserve because unlike Congressman Rodriquez, Mr. Canseco understands what it is like to own and manage a business and provide people with a job and living wage.
Aside from having the experience to create prosperity and jobs for our district, Mr. Canseco is a very receptive and open person. Having met him, I know that he is more than glad to hear suggestions and concerns from the people he wishes to represent . . . after all, isn't that what a representative should do? Well sadly, not according to Congressman Rodriquez. I mean as a "deity", as the local media would have voters believe, he has all the answers and money we need. But as I was saying, Mr. Canseco not only has the knowledge to create jobs that our district needs, but Mr. Canseco has the humility to meet with people and consider their suggestions because he understands that the people of District 23 know what is better for them than does any Congress thousands of miles away in Washington.
From the beginning of his campaign, Mr. Canseco has decided to take a grassroots approach to campaigning. To begin with, he took my suggestion of filing for a position on the primary ballot by way of gathering signatures. I believe this was a great way to get his name out and begin building a network of supporters. Thankfully this paid off and he was able to collect nearly twice as many signatures as needed and, in a truly fiscally conservative fashion, saved his campaign some money. In addition, since filing Mr. Canseco has been campaigning door-to-door meeting with the people of this district and directly listening to their concerns. Though the local media in Del Rio thinks it is a blessing if Congressman Rodriquez were to fly over our city, I cannot imagine him spending his weekends, his days off, walking door-to-door for hours meeting his constituents, especially considering our weather here in Texas because if it isn't scorching hot, it is freezing cold. For weeks now, Mr. Canseco has been out"block-walking" every Saturday and Sunday meeting with the people of District 23 in their homes and neighborhoods. To me, this is an early sign of dedication to service that Mr. Canseco will carry with him to Washington, an admirable quality that most congressmen have lost.
In addition, Mr. Canseco is a very genuine person. As congressman Mr. Canseco would be more about creating prosperity and results than about pomp and politics. I believe that Mr. Canseco's humility is something that will allow him to reach out to Latinos and bring them into the Republican tent in District 23. The Democratic Party on the border is unnecessarily vicious with anyone who is not 100% in step (including their fellow Democrats) and as I have learned, this has caused tensions within their own party that have turned off many people who are worried about the excessively reckless spending in Washington. At this time the Democratic Party is causing trouble for itself on the border and the voters of District 23 are looking for an alternative. Mr. Canseco provides the voters of District 23 with a calm, genuine, hard-working, and visionary choice for their next congressman.