Rasmussen Reports Poll Shows Bill White Beats Debra Medina for Texas Governor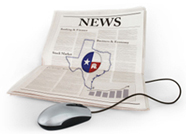 *Click here for most recent poll.
According to a Rasmussen Reports general election survey from January, Democratic ex-mayor Bill White would trail both Kay Bailey Hutchison and Rick Perry in the Texas gubernatorial election if either one were to win the GOP primary. However, if Debra Medina were to win the GOP primary for Texas governor and then have to face Bill White in a one-on-one election match-up, Bill White would win. Check out the results here.