The Real Townhall was a Success!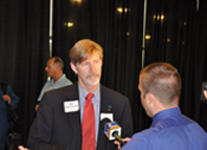 U.S. Representative candidate James Matthew Duerr held the Real Townhall event in Corpus Christi Wednesday evening for citizens to learn about the proposed healthcare bill. Having not conducted a single live town hall meeting, Congressman Solomon Ortiz is not fulfilling his duty to his constituents. Therefore, Republican James Matthew Duerr got a team of medical experts together and held a meeting for the people to come learn and ask questions about health care reform.
The Real Townhall event was a success! There was some very productive discussion and lively interaction with people both for and against government run health care. Unfortunately for the constituents of District 27, our elected representative, Congressman Solomon P. Ortiz, Sr. refused to attend the event in person. Representative Ortiz's phone event was a huge disappointment due to technical issues. Even the protesters at the event were unhappy to be treated with such disrespect by the congressman.
James Matthew Duerr did a great thing for the community in hosting this event. I hope it will lead to more similar opportunities for South Texans to learn about important issues and participate in discussions that matter to real people.
Many people commented favorably about the lack of politicization during the event and commended James Matthew Duerr for being willing to listen and interact face to face with everyone, even those that disagree with him. This is a fine example of how our elected leaders should behave!
Also, thanks to Texas GOP Vote for providing the Where is Ortiz? stickers for the event. They were a hit with the over 300 participants of the Real Townhall as can been seen in the pictures of the event!