Meet Tom Pauken, Candidate For The Office Of Governor Of Texas - Part I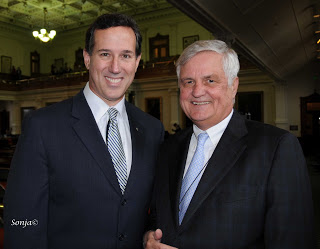 Rick Santorum and Tom Pauken
The last time I visited with former Texas Workforce Commissioner, Tom Pauken, was on January 8, 2013. He quietly informed me that he might run for the governor of Texas. I didn't waste any time asking for an interview. Never turn down an interview when you can enlighten voters. If and when other candidates officially announce their candidacy for the office of the governor, I will ask them for an interview. We need to know what their intentions are in running our Texas. And how they intend to keep it RED!
We need to keep focused on our conservative values if we ever expect to make it past the Obama administration. With so much going on in the national front, we must now turn to our very own situation in Texas.
Governor Rick Perry has made it clear that he will not make any decisions on reelection until after the Texas legislative session is over, even though he seems to be getting ready for reelection or maybe another run for president. Texas Attorney General Greg Abbott keeps a 'mums the word' about running for governor even though the signs are there. He has an awesome war chest. The rumors couldn't be louder that he is running, yet we really have not heard anything 'official' from either office holder.
In the meantime Tom Pauken has made it official that he is running for governor of Texas. I took time out to interview him on March 24th and was quite surprised at some of the things he said. Now is the time for all of us to pay attention to what is being said concerning our TEXAS. Our goal has to be to KEEP TEXAS RED!
My interview with Pauken focused on education, water, and immigration. He also spoke of transportation being a huge issue but did not expand on it. He mentioned the Voting Rights Act and Battleground Texas. His views should give us further insight as to what he thinks are the obstacles and remedies for a healthy RED Texas.
RED SONJA2013©
PRAY, FIGHT, NEVER GIVE UP!
WHY DID YOU DECIDE TO RUN?
I decided fairly recently to run for governor. I worked in the Reagan Administration, ran a federal agency and saw a president who was intent on providing common sense solutions to the serious problems facing our nation at the time. I have been chairman of the Texas Workforce Commission since Rick Perry asked me to come down and serve in 2008 and served in that capacity for four years. So I just became frustrated that I think, quite frankly, a lot of our leadership is focused more on sound bites instead of long term solutions to the serious problems facing Texas based on our conservative principles. Specifically on the education problem, we have an educational system that is designed by liberal Democrats. Sandy Kress an architect of the Bush/Kennedy 'No Child Left Behind' Bill. The bill is pushing a system on the educators and our kids in the state of Texas designed to push everybody to go to a four year university. We have neglected vocational education. We neglected giving the young people at the high school level and the post secondary school level of the opportunity to learn skill trades. If that is the direction they want to go in instead of this one size fits all approach to education. I have been leading the effort to reform that because we have a shortage of skilled workers. We are losing a lot of young people who wind up dropping out of school who otherwise, if given the opportunity, would be able to excel in vocational education and learn a basic skill or get a license which would allow them to make a good living.
HOW MUCH MONEY HAVE YOU BEEN ABLE TO RAISE AND DO YOU THINK YOU CAN OVERCOME THE MILLIONS MORE THAT PERRY HAS?
We have just started, that's why we filed the paperwork just the other day. We have had our first organizational meeting, and I have just begun raising money and building an organization. We will not have the kind of money that Rick Perry has or Greg Abbott, if he chooses to get in the race, but I think we will have a very strong organization, and I think we will be able to raise enough money in order to do what is necessary to win this race. It will clearly be a grassroots race.
I would not be running if I did not think we have to have a different style of leadership, and we have to have a more serious approach to solving problems in our state and also addressing the threat of leftist efforts to take over this state in five years, and the hub of that is in San Antonio, Texas. The Obama group (Battleground Texas) has come in and they are very slick and very sophisticated in terms of their technology and they are mobilizing activists all over the state under the radar screen to lay ground work to take over Texas. And with all due respect to our current leadership, they are more focused, I think, on raising money and getting elected and reelected all off sound bites. This is serious business and these are serious people. We need to have the type of leadership that marginalizes them and lays out a common sense agenda that can attract the majority of Texans not just Republicans but Democrats and Independents. We can't just be on auto pilot and rest on our laurels because today Texas is a Republican state.
When I was state chairman, it was still a Democrat state. Guess what, the Democrats were resting on their laurels. We went out and organized. In fact, we organized and we put county chairmen in all 254 counties and all of a sudden they woke up one day and found out we were the majority party and the Democrats were the minority party. And it has been the case ever since. But it did not happen by accident, and it did not happen because G.W. Bush was elected governor. It happened because the grassroots came together and built up a very powerful network. That to me is what is so exciting about the tea party and the grassroots people who came back and got involved in 2010 because we can't have this top down machinery. In this top down approach where you are lucky to get 15 minutes of time and they all hire a bunch of people and they say the right things but it is not real, it is not authentic conservatism. And we have got to put a conservative plan by a new conservative team back in place.
I said the other day when I was asked by a reporter, "Tom what's this you came to Austin as an outsider." When the governor asked me to chair the Texas Workforce Commission and I leave Austin as an outsider. And quite frankly, we need more outsiders coming into Austin, just like we did it in the Reagan Administration. We were a bunch of outsiders who President Reagan brought with him. When he got elected and his words to us were, "We are coming into here to Washington to drain the swamps." And we did a pretty doggone good job of it. But there's a very insular attitude down in Austin, that is why I favor term limits. I think two terms is enough for a state wide elected official and I support Senator Kevin Eltife legislation in his proposed constitutional amendment which would limit statewide elected officials to two terms. I have been a long time supporter of term limits, and I believe that will pass the legislature, and I think the voters will approve that constitutional amendment. I really think that we have got to go back to the grassroots and the tea party and other good people around the state and they have made a very important start. And if we are going to defeat the Left and continue to make sure that Texas is run by conservatives then it is up to us to put a new team together to make sure that happens.
WHAT WAS THE POSITION THAT YOU HELD IN THE REAGAN ADMINISTRATION?
I was on the president's White House legal council staff. I was on his transition team and on his White House legal council staff. In fact, I was working in the executive office building in the spring of 1981 when we heard the terrible news that the president had been shot, and we did not know for a brief period of time whether he was going to live or die. Fortunately, not only did he live, but went on to do a terrific job as president of the United States. The President nominated me to build an agency called the Action Agency, which had originally been called Office of Economic Opportunity. Don Rumsfeld and Dick Cheney headed it up during the Nixon Administration and currently called the AmeriCorps.
But when I was made head of the Action Agency I inherited an agency that had been run by a very left wing individual in the Carter Administration. A man by the name of Sam Brown who during the time I was in Vietnam literally was part of that faction that was supporting the other side in that war.
Stay tuned for Part 2 of this interview!