Texas Federation Of Republican Women - October 17, 18, 19, 2013
The TFRW Biennial State Convention has come and gone. It was a whirlwind of fun and information. The three day convention was held at the Grand Hyatt in downtown historic San Antonio. Everyday was filled with speakers, meeting candidates and mingling with friends. I especially found it very moving to visit with friends from San Antonio that I had not seen in many years. The election of new state officers, and changes to the by laws and other business was accomplished. There were of course luncheons and dinners for those who enjoy delicious cuisine. Approximately 800 delegates and alternates attended, representing 100 Texas clubs. The luncheons, dinners, candidate's staff, and vendors attracted hundreds more to the convention bringing the turnout to well over 1,000.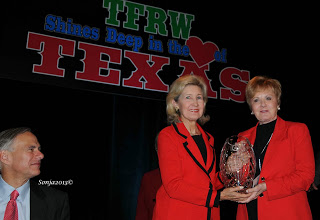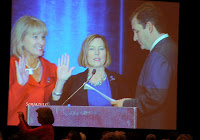 The more memorable events were the presentation of the Kay B. Hutchison Award to a female for her leadership skills. The first recipient was Congresswoman Kay Granger from District 12. An award went to Rhonda Lacy, president of the Midland County Republican Women for the largest membership in Texas and the United States. Carolyn Hodges, current TFRW president, will step down. Jody Ruston was sworn in by Senator Ted Cruz to serve as the next TFRW president.
The Comal County Republican Women, which include Bulverde Area Republican Women, Canyon Lake Republican Women, of which I am a member, and the New Braunfels Republican Women, received several awards. BARW received recognition for the Best Newsletter in a large club category with Audrey Cheatum president and Hazel Roman editor. CLRW received the Most Volunteer
Hours Award in the jumbo club category with Lisa Roper having the most individual hours with 4,320 to her credit. President of CLRW Pat Hingst and members beamed with pride because one of the CLRW members, Belinda Frisk, was honored for being one of the Top Ten Outstanding Women in TFRW. CLRW received the John Goodwin Tower Award for club achievement. It was the CLRW Convention Decorations Committee who were responsible for the beautiful decorations for the event. NBRW president, Joyce Yannuzzi, received the John Goodwin Tower Award of Excellence for her club.
Senate District 25 Texas State Senator Donna Campbell is a member of the NBRW. She gave a spirited speech to the delegation on the first day of the convention. Senator Ted Cruz addressed the TFRW women and their guests at the luncheon on the last day. The women clapped and shouted for more than five minutes giving Senator Cruz a hero's welcome before he sat down. There were also shouts of "We love you Ted" and "We love you more" from the very thrilled attendees. In fact, he had to get up and stand with the mass of women wanting to be photographed with him. It was really awesome to watch the women clamoring for his attention. I suspect he loved every minute of his hero worship because he had the biggest smiles ever.
It was very exciting for me to be a part of this tremendous group of women who all vote Republican. Even though I did not receive an award, our volunteer hours coordinator, Patti Johnson told me that our club, CLRW, had the top two women with the most volunteer hours and that I had the second most hours in the entire state of Texas with 3,800 to my credit. Imagine that!
I want to thank all my friends from TFRW for making this convention memorable and writers from TexasGOPVote Bob Price for his support and Debbie Georgatos for her kind words. I was proud to be with so many people working to make a difference in keeping Texas RED!
The Most Powerful Women's Political Organization in Texas Today! http://www.tfrw.org/
To see more TFRW Convention photos go to my Facebook page: https://www.facebook.com/#!/media/set/?
set=a.661434337220473.1073741827.219411951422716&type=1