Texas Governor Rick Perry Will Not Seek Reelection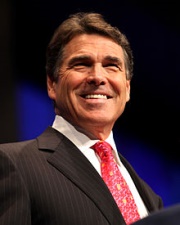 Today I made the following statement after Texas Governor Rick Perry announced that he will not seek reelection:
Under Governor Perry's leadership, Texas has been a shining example that less government, lower taxes and fewer regulations helps to grow jobs and move our economy forward. It's a striking contrast to the big government, big spending, liberal mindset of the current Administration.
Sandy and I wish Gov. Perry and Anita the best, and I look forward to continuing to work with him on behalf of 26 million Texans.