Sen. Cornyn Statement On Death Of Bin Laden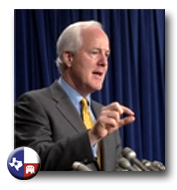 In the aftermath of 9/11, President Bush promised a fearful, grieving nation that those individuals responsible for this atrocity would be brought to justice. Now, nearly a decade after those horrific attacks, President Obama informs us that justice has finally been served.
Let this serve as a grave reminder to all those who wish to do our nation harm: If you murder Americans, you will be hunted, you will be found and you will be brought to justice. I commend the military and intelligence professionals whose tremendous efforts ended the reign of this terrorist mastermind.
While this will never bring their loved ones back, it is my hope that this will somehow ease the pain of the families of those who were lost on September 11th, 2001.