Republican Plan of Attack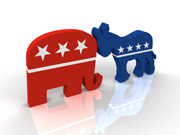 With Majority Leader Reid getting the exact amount of votes needed to avoid a filibuster, Republicans know they must work on a strategy before the Senate health care bill, HR 3590, is debated on the Senate floor after the Thanksgiving break.
The minority intends to launch a series of surgical strikes on key parts of the bill, and to raise questions about whether it all adds up to what the Democrats are claiming.
Minority Leader Mitch McConnell told CNN Sunday that he does not believe moderate Democrats will allow the bill to pass.
I believe there are a number of Democratic Senators who do care what the American people think and are not interested in this sort of arrogant approach that everybody sort of shut up and sit down, get out of the way, we know what's best for you.
The debate will really heat up after the Thanksgiving recess when the Senate will discuss issues such as abortion funding, illegal immigrants' access to the health care, a government-run public option, and how to pay for the health care bill.
That will be the gut check, particularly for four wavering centrists who voted with Reid on Saturday: independent Joe Lieberman of Connecticut, and Democrats Ben Nelson of Nebraska, Blanche Lincoln of Arkansas and Mary Landrieu of Louisiana. All have said they have serious objections to the bill in its current form, and particularly to the government-run health care plan that would be among the options available to the uninsured. "We have a health care system that has real troubles, but we have an economic system that is in real crisis," Lieberman said Sunday on NBC. "I don't want to fix the problems in our health care system in a way that creates more of an economic crisis."
You can read about more of the key players in the health care debate here. You can also learn more about the health care debate in "Understanding the Health-Care Debate: Your Indispensable Guide" by Time.