Ft. Hood Shooting Leaves 4 Dead, 16 Injured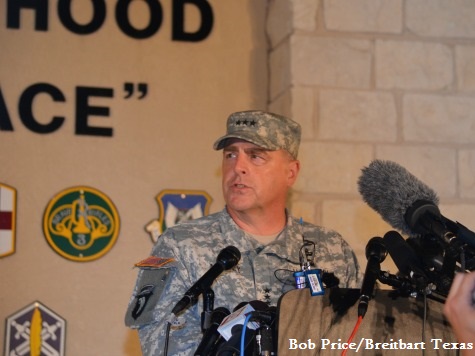 FORT HOOD, TEXAS--For the second time in five years, a military commander has stood before the media outside the gates of Fort Hood, Texas, to explain the details of a shooting of soldiers in the nation's largest military installation. Lt. General Mark A. Milley, III Corps and Fort Hood Commander, briefed nearly 150 members of the media about the shooting which left four dead (including the shooter) and sixteen wounded.
According to the most current medical updates available from the staff of Baylor, Scott & White Medical Center, eight of the nine patients treated for injuries were male—one female. All patients are currently being held in ICC—some in critical condition. Other wounded individuals are receiving care on base with no identifying information made available as of publish time.
Gen. Milley explained that at about 4 p.m. CDT on Wednesday, a soldier opened fire on other soldiers in the 1st Brigade Medical Command Area. The shooter identified by House Homeland Security Committee Chairman Mike McCaul as 34-year-old Ivan Lopez, according to the Associated Press.
Responding to a question from Breitbart Texas, Gen. Milley said the shooting rampage lasted about 15-20 minutes. Milley said the shooter got out of "his" vehicle and entered the Medical Command building where the suspect then fired several rounds from a .45 caliber Smith & Wesson pistol. The weapon had recently been purchased off base and had not been registered according to military regulations.
The shooter then retreated back to his car and fired more rounds from his vehicle before driving to another location where he walked into a building and opened fire again. At this point, the shooter encountered a female military police (MP) officer who engaged the shooter.
From a distance of about 20 feet, the female MP engaged the shooter and ordered him to cease fire. The shooter raised his hands above his head initially, then reached into his jacket and pulled out his pistol. She then drew her weapon and "engaged" the shooter.
"Then he put the weapon to his head and he died from a self-inflicted gunshot wound," Gen. Milley said.
Gen. Milley said the shooter was in the process of being tested for mental-health related issues but had not yet been diagnosed with post-traumatic stress syndrome (PTSD). Milley said the soldier was not in the process of being discharged from the military but was being treated for depression, anxiety and a variety of other mental health disorders.
The shooter was deployed in Iraq for a period of four months during 2011. He was stationed at another Army Post in Texas before being transferred to Fort Hood in February.
The shooter, according to Gen. Milley was married and had family in the local area.
The General said that most of the injuries sustained were directly from gunshots, however some received injuries from shattered glass and one from jumping over a fence attempting to flee.
Breitbart Texas asked Gen. Milley about the policy of prohibiting soldiers from carrying concealed weapons for self-defense. He stated military policy prohibits soldiers from carrying concealed weapons. On a follow-up question asking if that policy should change in light of the two shootings, the General replied, "No, I don't think soldiers should have concealed weapons on base. We have law enforcement agents, trained professionals, and I don't endorse carrying concealed weapons on base."
General Miller told assembled media that terrorism was a highly unlikely motivation, but it had not been ruled out.
Gen. Milley stated the incident would be investigated by various law enforcement agencies. The Bureau of Alcohol, Tobacco, Firearms and Explosives (BTAFE) and FBI would be investigating at the federal level; the Texas Rangers and Texas Department of Public Safety at the state level; the Killeen Police Department and Army would focus on the local and military levels.
Click here to read live updates in the immediate aftermath of the shooting incident.
---