San Antonio Express: Texas lawmakers fight for shuttle Enterprise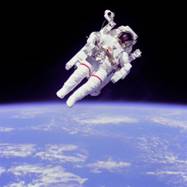 WASHINGTON — Texas lawmakers Thursday renewed their fight to wrest the retired shuttle Enterprise from New York City and bring it to NASA's Johnson Space Center in Houston.
They contend NASA's award of the coveted spacecraft to the Big Apple was based on promises that are not being kept.
The original proposal was to house the shuttle on a Hudson River pier alongside the USS Intrepid Sea, Air & Space Museum. But the New York Times reported Thursday that museum officials now want to move the shuttle farther away.
The Times reported the Intrepid Museum does not own the land where it hopes to display the Enterprise — a parking lot in Hell's Kitchen, across the busy West Side Highway that's owned by the New York State Department of Transportation.
Nor does the museum have the zoning change that would be needed to build and operate a museum on land currently reserved for industrial manufacturing. There also is the question of money.
The Intrepid Museum still has to raise millions of dollars to cover the $28.8 million cost for NASA to prepare and transport the spacecraft, as well as additional funds to build the climate-controlled exhibition space required by the space agency.
"It seems like New York has blown up the entire bid they used to get the space shuttle in the first place," said Rep. Pete Olson, a Republican from Sugar Land whose district includes the Johnson Space Center. "NASA needs to put the breaks on this and exercise oversight, something I assure you Congress will do." Rep. Michael McCaul, R-Austin, said: "It's obvious New York was not ready as advertised."
Rep. Kevin Brady, a Republican from The Woodlands, said he was "not yet sure this is a bait-and-switch moment," but added: "If it's a choice between a Big Apple parking lot and the home of manned space flight — there is no choice."
Rep. Gene Green, D-Texas, spied fresh opportunity. "You work really hard on something and if you're lucky you get a break," said Green, dean of the Houston-area delegation. "These problems may be the break we need. It opens a window for us to take action."
Susan Marenoff-Zausner, president of the Intrepid museum, said no final decision has been made.
"We look forward to having Enterprise at the Intrepid for all New Yorkers and all our visitors to enjoy," Marenoff-Zausner said.
Michael Curie, a spokesman at NASA headquarters in Washington, said the space agency is moving ahead to hand over the shuttle in 2012 — one of four orbiters NASA administrator Charles Bolden awarded to sites in California, Florida, Virginia and New York.
"NASA and Intrepid are actively working Enterprise's relocation planning," Curie said. "At this time NASA does not foresee any issues that would prevent transferring the Enterprise to Intrepid as scheduled in 2012."
Rep. John Culberson, a Republican from Houston and a member of the House Appropriations Committee, said NASA awarded the shuttle based on information provided by officials in New York.
"By changing its display plans, the Intrepid Museum is defying assurances made during the selection process," Culberson said, vowing support for "a full congressional examination of the Intrepid Museum's actions and an open discussion into whether the selection process should be reopened." Rep. Sheila Jackson Lee, a Democrat from Houston, said any review of NASA's initial decision should give greater weight to Houston, home of the astronaut corps and mission control for manned space operations.
"The location of these retired shuttles is not about what museum can get 1 million visitors a year — it's about what communities had their necks on the line," said Jackson Lee, referring to the loss of 17 astronauts during NASA's manned space program including three in a launch pad fire at Florida's Kennedy Space Center and 14 Houston-based shuttle astronauts who died in the Challenger and Columbia accidents. "History should dictate the decision — not the number of visitors."
The NASA administrator, a four time shuttle astronaut and long-time resident of Houston, defended his decision during a visit to JSC on Monday. He allotted shuttles to Kennedy Space Center in Florida; the California Science Museum in Los Angeles; the Intrepid Museum in New York City; and the Smithsonian Institution's National Air and Space Museum headquartered in Washington, D.C.
"I'm Houstonian, and nothing would have made me feel better, emotionally if you will, or otherwise, than to be able to announce that we were going to bring an orbiter to Houston," Bolden told JSC employees. But he added: "I'm trying to make sure, as the NASA administrator, that we expose the largest number of people from this country in the ability to see and touch and be close to an orbiter."