After Vegas: new strategies for soft targets, ISIS and ANTIFA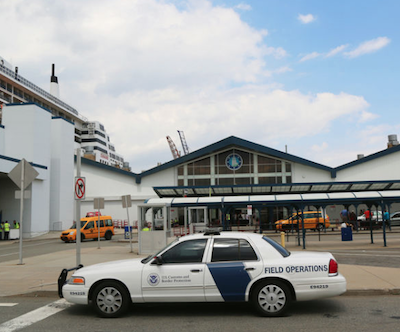 Analysis of the Las Vegas shooter's motivation and mindset is going to take months to process — however the short term impacts of the scale and severity of the massacre raises important issues about soft targets and the need for new methods for tackling threats and terror — domestically and globally.
Evolution of the attacker
The Las Vegas Shooter, Stephen Paddock and the recent Asheville bomber suspect — Michael Christopher Estes (who allegedly planned an attack with Amonium Nitrate and Fuel Oil) harken back to the challenges of domestic terror actors from the 1990s. Paddock's motive's remain elusive while Estes claimed wanting to "start a war" on U.S. soil. Both cases involve attacks planned at scale on public soft targets, indicative of a need to review existing profiles of domestic actors — ideally with a big data review of actions, habits, triggers and risk associations.
Foiled ISIS Plot in NYC
While these events unfolded, the New York City Police Department (NYPD) foiled a purported foreign terror plot to target New York City subways and Times Square — allegedly plotted by turned Pakistani and Canadian actors — funded by an ISIS-P (Philippines) agent.
Hydrogen Peroxide bomb attacks were foiled — but underscore the danger and diversity of bomb agents used by ISIS (triacetone triperoxide [TATP] was used in the UK and Spain).
Long Range ISIS Risk as It Morphs to ISIS 3.0
ISIS's Al-Baghdadi also recently issued new audio edicts and propaganda videos — indicating that while the ground fight in Raqqa is being won — ISIS fall back to Deir el Zor will present a longer term risk. ISIS is moving from ground based attacks to long range radicalization plus attacks. The risk profile is high in the EU, where police and intelligence incompatibility and inability to innovate against terrorist actors that live on the web and dark web exists. Within the U.S., the relative integration of American Muslim communities demonstrates a low level of risk — but the challenge of increasing online prevention.
Increased risks linger with secular radicalization of Non-Muslims or "Jillennials" who are often looking for meaning and get baited by ISIS's cult recruitment rhetoric online. Recommended abatement includes interfaith engagement and anti-radicalization education — providing clear evidence against ISIS's claims and false narratives.
An al-Qaida Risk Rises Again
AQAP (al-Qaida in the Arabian Peninsula) issued full instructions on how to derail a train — increased alerts have been raised in Europe — however as we develop new risk profiles, new anti-terror training should be incorporated for rail, logistic and power systems that connect to rail.
Antifa Presents a New Domestic Terror Challenge Unseen Since the 1960s
The New Jersey Department of Homeland Security and Preparedness has identified Antifa as a new radical left risk group that has been observed to organize on social media forums, as well as social media sites including Facebook pages and twitter, "Violent confrontations between Antifa members and white supremacists — as well as militia groups — will likely continue because of ideological differences and Antifa's ability to organize on social media."
Antifa fashions itself as an Anti-fascist movement drawing allusions to historical ties — however the modern movement largely developed and mobilized following the return of anarchists during the 2017 presidential Inauguration. Confusingly, their move to silence extreme-right wing and free speech voices has led to many pointing out that the irony that they end up acting like fascists.
The Organization is more of a loose cell structure, dispersed across the United States.
The FBI has posed alerts in September to expect continued Antifa violence as White Supremacist rallies and protests are regularly met by Antifa counter protests and violence.
Risks from White Supremacists Continue
Going back to earlier this year, the FBI identified a diverse matrix of white supremacist groups as additional actors capable of violence.
Following the death by vehicular manslaughter attack in Charlottesville, Virginia earlier this year U.S. Attorney General Jeff Sessions launched a civil rights investigation into the violence in Charlottesville — labelling the attack an incident of "domestic terrorism."
Black Identity Extremists (BIE): A New, Confusing Designation
Groups like Black Lives Matter and large scale black identity protests of a non-violent nature are a stark contrast to pockets of race violence where protests and counter protests turn into flashpoints and the occasion for white on black and black on white conflicts and violence do occur. While the FBI has given these groups this designation — we feel there is a need for caution with extremist designations, as data analysis and profiling needs enhanced to separate racial tensions stemming from inequality issues from violence and ultraviolence actions, such as those of Antifa.
Cyber-Ransom, Crypto-Theft are Now New Risk Challenges
While the landscape of domestic actors and international terrorists has evolved – the Petya virus and subsequent crypto-ransom penetrations have compromised entire healthcare and payroll systems. Add to this the Equifax hack of 140 million plus American citizens entire credit reports and we are looking at multifold personal and corporate risk ncreases.
Much of the compromised data is available for sale on the Dark Web – raising large questions as to when not if there will be financial loss impacts from the scale of these data breeches.
Where Should We Go from Here?
Hurricanes and wildfires aside, we are living in a complicated era that is seeing both societal changes in baby boomers through Gen-Z and now Homeland (born 2005-):
Domestic threat actors need new profiles based on forensic data post-mortems of both Las Vegas (mass murder) and Asheville (bomb plot) — inclusive of the fact that the risk profile for this new subset of actors is white ansd baby boomer.
The same way that "Jillenials" or Millenials who are at risk to fall prey or be captivated and radicalized by ISIS and potentially al-Qaeda (again) — we have two generations of youth (Millenials and Gen-Z) that even at age 28 are still often scratching their heads asking "So, what do I do now?" When all basic needs are met and the biggest worry you have is your social media presence or consumption of online content – new methods of engagement or community are needed.
Classifications such as BIE (Black Identity Extremists) need to be made carefully – Many groups online are connected because everyone is connected – but violent interactions within the groups needs to be separated from class or race based social discontent.
The way that ISIS has morphed to Version 3.0 – we need to keep an eye on ANTIFA and White Supremacist groups – as the two create a vicious circle of violence that breeds more violence. Additionally, ANTIFA has the potential to morph or factionalize, in the near future.
Cyber and Crypto risk is everyone's problem – high risk persons and corporations should look into K plus R policies, while data hygiene, web hygiene and cyber plus crypto risk training should be taken for basic preparedness.
Lastly, social media is a massive change agent — keep an eye on trends — as of today Mastadon (a totally open-source twitter) and Steemit (a cryptocurrency based social network) are gaining popularity. The future is a complicated and connected place.
Oz Sultan is a leading Big Data and counterterrorism expert who focuses on anti-recruiting and ISIS counterterror (CT) research within social media. He also advises a number of Fortune 1000 companies and is Adjunct Faculty at City University of New York (CUNY) Baruch. To read more of his reports — Click Here Now.