American Angels of Mercy in Syria
by Ted Poe
on April 30, 2015 at 3:47 PM
---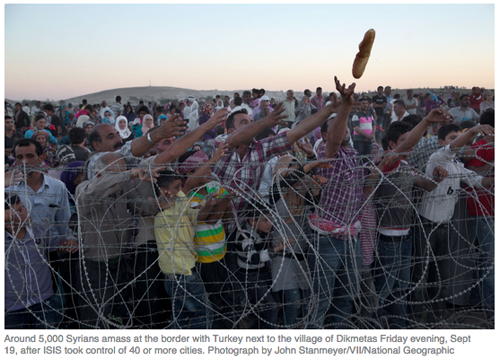 Last year, a National Geographic photographer captured 5,000 desperate people navigating their way through a sandstorm, and then eventually breaking through a barbed wire for safety through the border into Turkey. They were among the roughly 11 million Syrians who have now been displaced from their homes over the past 4 years.
The rich, the poor, the elderly, and the children, Christians, Muslims, they all share a new identity: a war refugee. Though they may be alive, many of them have little hope for a better life.
A Syrian mother and a refugee under World Vision's refugee program said she and her family lived in a small apartment and they were happy before the war; they were never envious of anyone, but after living in a tent with some 25 other families in Bekaa Valley, Lebanon, she now envies even the dead in Syria.
Unable to work because it is illegal, the more than 3.8 million refugees in neighboring countries wonder every day if they will be given aid to feed their kids. Safe places where children can go to learn, laugh, and play don't exist. Parents worry that their children might also join the ranks of ISIS, become victims of child labor or forced marriage.
A 14-year-old girl who participated in Save the Children's programs in Jordan had been married off by her father, not because he loved her less, but because it was one less mouth to feed in the family. Young girls like this one are torn within their identity. They wonder whether they should be playing with fellow children or must be a wife.
For the 7 million people internally displaced in Syria --7 million, that is bigger than New York City--those people face a double-edged sword every day because they may be killed by Assad's monsters or by the rebels. InJune 2012, government forces executed entire families in front of one another and their neighbors.
Ten-year-old Fatima stood bravely before the soldiers with $2 in her hand, asking to spare the life of her 11-month-old baby brother, Mattessem. They still shot. The bullet went through Mattessem and killed their mother. Out of a family of 25, only Mattessem, Fatima, the father, and the grandfather survived those executions.
Assad kills his people indiscriminately with barrel bombs that are embedded with chlorine and with shrapnel. These attacks bring scores of victims into the already overworked makeshift hospitals in Syria; 175 of these hospitals have been hit by barrel bombs by Assad.
Dr. Sahloul, a Chicago doctor and head of the Syrian American Medical Society, has become one of the dozens of American doctors who have helped the wounded in this war. He has risked being arrested, tortured, and even killed for aiding the opposition. He has treated victims of these barrel bomb attacks and has shared with my committee a young boy's vivid account of the attack.
Instead of drawing a sun and animals, this child drew people with their legs severed--severed from their bodies--bloody, and tears in the eyes of the victim. These children have had the first years shrouded in war. They have been deprived of a childhood stolen by war.
We are all made the same way, no matter what we look like or where we live, and deep down in our soul, all of us, even these Syrian refugees, just want to be free.
For every day the reign of terror continues, the colossal number of 12.2 million Syrians who are in dire need of humanitarian assistance continues to grow. U.S. Government-funded programming is working to meet this need. U.S.-based nongovernment organizations, both religious and secular, are doing great work inside Syria and the surrounding region to address the many needs of the displaced.
American funding has provided lifesaving food and essential items for several hundred thousand people inside the constantly bombarded city of Aleppo. Dozens of medical facilities throughout Syria are providing trauma and primary health care, as well as much-needed psychological and social support. Child-friendly spaces are set up in a safe place for children to receive support, to learn, and to play.
War is hell, and the noncombatant citizens are the ones who suffer from this hellish violence. Until the war in Syria is over, the lifesaving humanitarian care done by these American angels of mercy give hope to millions of refugees.
We thank these selfless people that help those affected by this war in Syria.
And that is just the way it is.