Half-Ton of African Khat Seized at U.S. Port of Entry
U.S. Customs and Border Protection officers seized more than a half-ton of Nigerian khat, a Schedule 1 stimulant, from two flights on April 1. Officials said it is the second seizure of the drug in two weeks. One of the shipments represents the second-largest seizure of khat in the port's history.
CBP officials said the seizure of 1,138 pounds of Nigerian khat a week ago was no April Fools Day joke. Dulles Field Office offers inspected two shipments that were listed as tea on the flight manifests at Washington Dulles International Airport. A U.S. Department of Agriculture botanist assisted the officers and identified the leaves as Catha Edulis, commonly known as khat, according to CBP officials.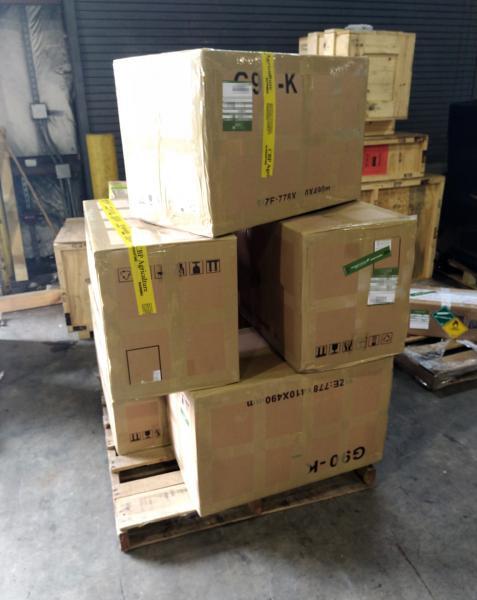 One of two seizures of khat at Washington Dulles International Airport on April 1. (Photo: U.S. Customs and Border Protection)
In the first shipment, officers seized 860 pounds that were scheduled to be shipped to Alexandria, Virginia. This seizure represents the second-largest in the Port of D.C.'s history and the 3rd largest for the Baltimore Field Office's area of responsibility.
The second seizure of the day yielded an additional 278 pounds. The bill of lading revealed the final destination as San Jose, California.
"The April 1st incidents were significant, some of the largest khat shipments we've seen at Dulles airport, but it further illustrates the vigilance demonstrated by our Customs and Border Protection officers to intercept dangerous products that threaten our communities," said Javier Cortes, CBP's Acting Area Port Director for the Area Port of Washington D.C. "CBP remains deeply engaged in our nation's whole-of-government response to the serious Coronavirus pandemic; however, we remain committed to conducting our traditional law enforcement missions, including narcotics interdiction."
Khat is a stimulant drug made from the leaves and twigs of an evergreen shrub, according to the U.S. Drug Enforcement Administration. The active ingredients in the plant are cathine and cathinone.
The agency reports the drug is absorbed by chewing the leaves. Dried khat leaves are also brewed as a stimulant tea or chewable paste, officials report. It will cause manic behavior, hallucinations, paranoia, nightmares, and euphoria. It can lead to depression and suicide. It can also cause cardiac complications and gastric disorders.
The DEA lists the drug as a Schedule 1 stimulant that is typically grown and harvested in East Africa and the Arabian Penisula. Schedule 1 is the most restrictive category of drugs classified by the agency.