Hurd Supports Intelligence Community and Passes Legislation to Address Border Crisis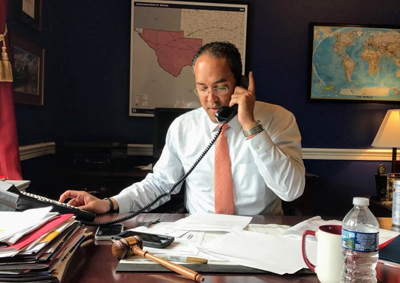 Wednesday I joined my colleagues to pass the bipartisan Damon Paul Nelson and Matthew Young Pollard Intelligence Authorization Act (IAA), which provides critical support to the brave men and women of the U.S. intelligence community and makes our nation more secure.
Included in the IAA is my bipartisan bill directing to the intelligence community to prioritize resources to help address the humanitarian crisis at the border.
As a former CIA officer, the intelligence community is near and dear to me. These brave men and women are the first line of defense against threats to the United States and have been responsible for many of the most important national security victories in American history. I am proud to work with my colleagues to improve our intelligence collection capabilities and give the intelligence community the resources it needs to accomplish its missions in this dangerous world.
I supported many crucial national security priorities in this year's bill, including:
Authorizing funding for the intelligence community to continue to protect our nation for Fiscal Years 2018, 2019 and 2020;
Prioritizing intelligence collection and analytic capabilities against China, Russia, Iran, and North Korea, while sustaining support for counterterrorism and counterproliferation efforts;
Defending against foreign threats to elections by:

Requiring the FBI to notify the intelligence committees quarterly when the Bureau opens a counterintelligence investigation into a candidate or campaign for Federal office;
Requiring the Director of National Intelligence to electronically publish an unclassified advisory report on foreign counterintelligence and cybersecurity threats to election campaigns for federal offices;

Providing additional support to Hurd's former colleagues in the CIA by:

Authorizing enhanced injury benefits to CIA employees injured overseas due to hostile acts or terrorist activities;
Closing loopholes that prevent survivors of certain CIA officers killed while stationed abroad from receiving death benefits; and
Requiring the CIA to brief Congress on whether CIA officers injured in the line of duty could benefit from VA or Department of Defense health care services.

Combatting Russian aggression by requiring intelligence assessments on the intentions of Russia's leadership with respect to potential military action against members of NATO, U.S. support for NATO and additional lethal military assistance to Ukraine or Georgia;
Improving retention and recruitment of personnel for critical cyber missions by providing increased pay for certain employees with unique cyber skills; and
Protecting critical energy infrastructure by creating an Energy Infrastructure Security Center within the Department of Energy.