The Last Raider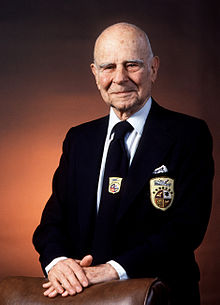 Lieutenant Colonel Richard Cole passed away on Tuesday at the age of 103 in my hometown of San Antonio.
For Texans and so many Americans, Lt. Col. Cole, or Dick as his friends and brothers in arms called him, symbolized one of the most remarkable groups from the Greatest Generation in World War II: the Doolittle Raiders. 
The group is named for then-Lt. Col. Jimmy Doolittle, who in April of 1942 fearlessly led 16 B-25 bombers and 80 crew members on a strike targeting factories and military installations in and around Tokyo. 
This was actually Dick's first mission and he was Jimmy Doolittle's copilot.
This mission wasn't just of tactical importance. It was a major morale boost for our nation just five months after Pearl Harbor.
He received the Distinguished Flying Cross for his role in the bombing as well as the Bronze Star and the Air Medal. Then in 2015, Dick and his fellow Raiders received the Congressional Gold Medal.
The men shared an incredible bond, and their lasting brotherhood was evident through one special tradition they shared.
For each reunion, the crew would share a cognac in silver goblets. Each goblet was engraved with the Raider's name – both right side up, and upside down. 
After toasting to the men who died since their last reunion, they would flip over the goblets of those who passed away. 
At their final reunion in 2013, only four Raiders were left. After determining that this would be the final reunion due to their age and travel limitations, Dick delivered the last toast. 
Now his silver goblet will be turned over – just as it was for the 79 brothers who left this Earth before him.
Today we remember the final Doolittle Raider for his incredible courage and sacrifice and a life well-lived. America has lost another hero, but our country will never forget him.