National Security Can't Be a Partisan Fight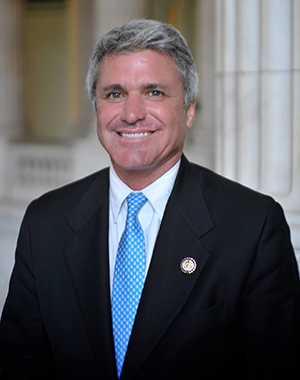 This week, the House unanimously passed a resolution introduced by Congressman Michael McCaul (R-Texas) condemning the Chinese Communist Party for their spy balloon. Rep. McCaul's efforts to pass the resolution — along with his continued leadership on foreign policy issues and the southern border — were featured today in the Texas Tribune.
For U.S. Rep. Michael McCaul, national security can't be a partisan fight
The Texas Tribune
By Matthew Choi
As other Texas Republicans in the U.S. House drafted their attacks and responses to President Joe Biden's State of the Union this week, U.S. Rep. Michael McCaul had his mind on a balloon.
The Austin Republican, speaking in an interview with The Texas Tribune hours before the presidential address Tuesday, described how he was trying to get Democrats on board with a resolution condemning Chinese espionage. Republicans had spent days attacking the Biden administration, which took days to shoot down a Chinese spy balloon that managed to traverse the continental United States.
But McCaul insisted the resolution represent the country, not the party.
He and like-minded Republican leaders met with Democrats to try to work out a version of the resolution that wouldn't offend their support for the president but would also appease even his most partisan fellow Republicans. The final resolution called out the Chinese government's attempts to infiltrate the U.S. and pushed the administration to keep Congress in the loop on Chinese espionage efforts. On Thursday, the resolution achieved what has become exceedingly rare in Washington and passed the House unanimously.
McCaul is no centrist. He is a vocal critic of President Joe Biden and he doesn't stray from the party line. He joins his fellow conservatives in railing against the administration's border policies and withdrawal from Afghanistan. But the reach across the aisle is emblematic of his leadership approach in his new role as chair of the House Foreign Affairs Committee.
McCaul believes deeply that "politics should stop at the water's edge," an adage that suggests the U.S. must set aside domestic partisan disputes and present unity when dealing with foreign threats. Doing so, he said, is critical to presenting the country's strength.
"We don't need a partisan resolution, which looks like the United States is divided, because China loves that. That's the worst thing we could do," McCaul said, seated in a rocking chair in his office, his arm still in a sling after he went weeks without tending to a bicep injury. "We need to be unified."
The self-described defense hawk entering his 10th term is one of Texas delegation's most powerful members in the House. He has secured the new leadership role on the Foreign Affairs Committee at a critical time for U.S. foreign relations as China, Russia and Iran pose growing threats to the current world order.
He plans to use the committee's influence and access to convince members of his own party that certain bipartisan priorities are important, like preserving financial assistance to Ukraine and condemning Chinese espionage.
"I challenge the other side of the aisle. Let's stand together against this common enemy we have," McCaul said from the House floor Thursday. "Our enemy is not each other. Our enemy is foreign nations like Russia, China, Iran and North Korea."
The first few weeks of the current Congress, however, have made that unity elusive. A vocal faction of the Republican Party is overturning some of the conference's more establishment values in favor of populist messages presented by former President Donald Trump.
On the chopping block could be continued financial support for Ukraine, which some far-right members say could be better used to finance border security at home. U.S. Rep. Marjorie Taylor Greene, R-Georgia, who secured greater influence in her party in this year's leadership race, has been a particular critic of further funding for Ukraine, which increased under the last government funding package.
"We're ignoring the dangers happening at our border and the national security crisis that's happening in our country while we're completely protecting another country's border," Greene said at a November news conference.
McCaul asserts the division is largely generational. The 61-year-old grew up under the shadow of the Cold War and readily recalls President Ronald Reagan's stance against the Soviet Union. But others whose political upbringing was largely shaped under the wars in Afghanistan and Iraq are far more skittish to engage in conflicts abroad that could end up further ballooning defense spending.
"They've fallen into this false dichotomy that somehow you can't secure the border and give weapons to free a democracy fighting a tyrannical dictator who's threatening Europe, the likes of which we haven't seen since Hitler," McCaul said.
McCaul has been holding informational sessions with holdout members and he hopes to have his first committee hearings clarifying how Ukraine aid money is spent to ease any concerns of mismanagement. He is also planning to have a hearing on war crimes committed in Ukraine, bringing up images of the violence committed against both combatants and civilians in order to highlight the human devastation of the war. And he plans to visit Ukraine with fellow Texas Republicans on the Foreign Affairs Committee, Jake Ellzey, R-Waxahachie, and Keith Self, R-McKinney.
McCaul acknowledges that there will be members so deeply entrenched in their opposition to Ukraine aid that they'll never concede. But he asserts they represent a minority of his party and that most members on both sides of the aisle support Ukraine or just want some assurances that money is being well spent.
He isn't holding back his punches either when he feels the administration is acting in weakness. He criticized the administration for not shooting down the spy balloon sooner and plans to take the lead as committee chair on investigating the administration's chaotic withdrawal from Afghanistan in 2021.
The quick fall of Kabul to the Taliban and the thousands of U.S. allies left behind in the country only fed Russian President Vladimir Putin's brazenness as he invaded Ukraine last year, McCaul said. And Chinese President Xi Jinping is closely watching if Congress stops supporting the Ukrainian war effort — a decision that could give Xi the chutzpah to execute his own invasion of Taiwan.
"You have these two dictators trying to get back to glory in the old Soviet Empire and the glory of Imperial China," McCaul said.
He is also a vocal critic of the administration's handling of the border, signing on to the Texas border plan, which has become the guiding framework for House Republicans' border policy. The plan is based on a far more punitive approach to managing the border, with harsher parameters for asylum-seekers and more deterrent measures to clamp down on crossings. McCaul previously served six terms chairing the House Homeland Security Committee, which has jurisdiction over border issues.
That doesn't mean he doesn't have a successful record working with Democrats. Rep. Joaquin Castro, D-San Antonio, who is the top Democrat on the committee's Western Hemisphere subcommittee, said he collaborated with McCaul on legislation and hopes he continues to lead the committee in a bipartisan way. Castro confirmed McCaul was willing to push back on some influential Republicans who wanted the Chinese espionage resolution to be a targeted attack on the president.
But as Republicans increasingly call for more draconian border security plans, Castro said he hopes "the debate about migration and border security will remain in the realm of reality and not be dominated by the most extreme voices in the Republican Party who see every asylum-seeker as a potential serial killer."
McCaul makes a contrast on the two issues. He can remain adamantly opposed to the Biden administration's border approach, which he described as a "policy issue that has nothing to do with Ukraine." He can also work with Democrats to address the complex coordination of foreign adversaries in Beijing, Moscow, Pyongyang and Tehran, who are testing the willingness of the U.S. to keep hold of its perch at the top of the post-war world order.
"This is a struggle for the global balance of power," he said.