Pistol-Packing Granny Scares Off Armed Burglar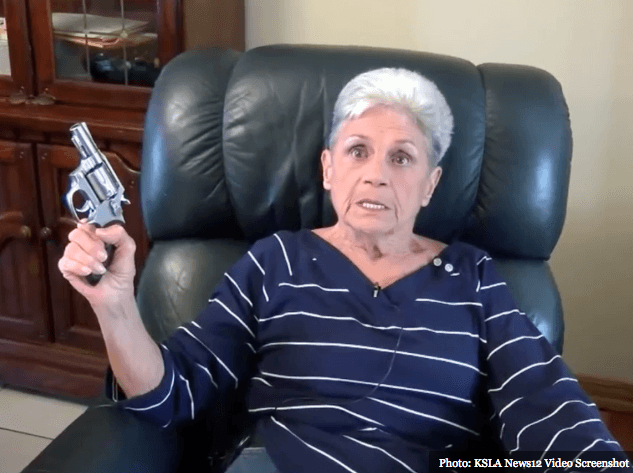 An armed burglar in the northeastern corner of Texas picked the wrong grandma's to rob. The 74-year-old grandmother grabbed a gun and likely saved her own life while chasing the armed intruder.
Rebbie Roberson was settling into her recliner to watch the 10 o'clock news on New Year's Day when a man wearing a mask and gloves broke into her home. The burglar pointed a gun at her, but was surprised by her reaction.
"I reached over there and grabbed this gun," Roberson told the KSLA News12 reporter while pointing to a nearby table. And when I swerved around, I pointed it at him and he ran."
KSLA News 12 Shreveport, Louisiana News Weather & Sports
Roberson said she grabbed her gun, which she said she always keeps nearby, and chased the robber while firing several shots at him. She took the reporter on a tour of her home, showing the bullet holes in her walls.
"I'm not sure I didn't hit him. I don't know yet. I sure tried. I sure was hoping," the pistol-packing grandma said. "That was the scare of my life."
Sheriff's investigators said they don't believe the suspect was struck by any of the rounds. They are looking for leads on who the suspect might be.
"I didn't know if he was going to kill me or what," Roberson said. "I tried to kill him. Anybody break in on me, I'm going to kill them. He's going to kill me or I'm going to kill him."
She said the gunman had pointed his own pistol at her while she was sitting in her chair. "And when I started to get up, he was in here on me with a gun facing me right to my face."
Bowie County Sheriff's Office Chief Deputy Jeff Neal told the local news outlet, "It could have been worse for both individuals, both the victim and the suspect."
He explained the 74-year-old grandmother was well within her rights to use her gun to defend herself. "Every citizen, according to the Texas penal code, has the right to defend themselves and their family."
Burglary has become a very dangerous profession in Texas. Shortly before the end of 2016, three Houston-area homeowners in one week used deadly force to defend their home from burglars. In two of the cases, the burglars were shot and killed.
Bob Price serves as associate editor and senior political news contributor for Breitbart Texas. He is a founding member of the Breitbart Texas team. Follow him on Twitter @BobPriceBBTX. Originally published on Breitbart Texas.