Sen. Cruz: 'When the Second Amendment Says Shall Not Be Infringed It Means Exactly That'
Delivers Remarks at National Rifle Association's Annual Meeting in Dallas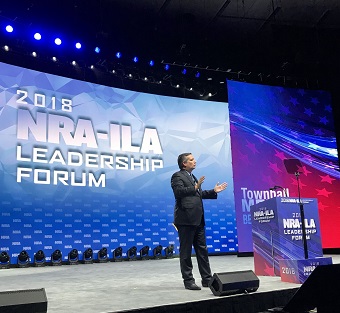 I recently delivered remarks at the National Rifle Association's (NRA) Annual Meeting, where I highlighted my efforts to defend the Second Amendment, including my letter to Citigroup and Bank of America, who have sought to restrict customers' lawful gun purchases and gun sales, and my bill to improve school safety and prevent violent criminals from obtaining weapons.
Still photos of my remarks may be viewed here. Watch my full remarks here. 
God bless Texas, and God bless the NRA. In 1776, 56 patriots affixed their names to the Declaration of Independence. Signed their lives, fortunes and sacred honors. When they made that commitment those were not empty words. Those were the words that launched a revolution, the greatest experiment in freedom that the world has ever known. Today, in this gathering, we are once again in the presence of patriots. From the minutemen at Lexington and Concord to civil rights leaders like Dr. Martin Luther King and Malcom X, Americans have long understood that the right to keep and bear arms is fundamental for preserving our liberty. And the men and women here are committed to standing up for freedom.
"Senator Cruz's support for the Second Amendment is without question," NRA Executive Director Chris W. Cox said. "He is a fearless defender of the Constitution and has always worked to protect the rights of all law-abiding Americans. The men and women of the National Rifle Association are honored to host him at the NRA-ILA Leadership Forum."
In my remarks, I invited those exercising their lawful rights under the Second Amendment who find their financial services cut off to come to Texas, saying, "Two major national banks have threatened to cut off banking to anyone who doesn't comply with their Left wing anti-gun agenda. Let me say to anyone in this room, and anyone within the sound of my voice, if you are exercising your Second Amendment rights and you find your financial services cut off by banks that are trying to implement a political agenda, let me invite you, come to Texas. We have literally thousands of commercial bankers in Texas who would be happy to have your business. In Texas we believe in standing up for our rights."
I also thanked the men and women of the NRA for defending the Second Amendment rights of law-abiding Americans.
We understand the Second Amendment right is not about hunting. It's not about target shooting. The Second Amendment is about the fundamental, God-given right each and every one of us has to defend our lives, to defend our homes, to defend our children, to defend our family, and when the Second Amendment says 'shall not be infringed' it means exactly that: shall not be infringed. That's what the men and women here are standing up and defending.