Sen. Cornyn: Congress Must Take the Time to Get Healthcare Reform Right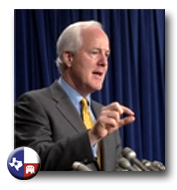 I spoke last week on the Senate floor about the health care proposals currently being considered in Congress, and the need for health care reform that empowers individuals, not the government, to make their own health care decisions. Below are some of my key remarks, as delivered on the Senate floor. I also spoke about health care reform in an interview with Fox News.
As you know, two committees in the Senate are primarily given the responsibility for writing a health care reform bill. ... These two committees, as well as the President of the United States, are considering numerous proposals that deserve the careful attention of the American people and of Congress. Because this legislation, however it turns out, could fundamentally affect the relationship between patients and their doctors, as well as the relationship between the individual and our government.
Two things are becoming increasingly clear so far, and that is it seems like there's less concern in Washington about lowering health care costs than shifting those costs to the taxpayers. And the costs of a Washington takeover of health care just keep going up and up and up and up. You'd think these huge price tags would convince some folks here in Washington that we ought to call a timeout, back up, let's come back with a different idea. You'd think that it would cause Senators and Congressmen and other leaders here in Washington -- Presidents -- to come up with a new approach, to be open to different alternatives that would actually lower costs, not only for the taxpayers but for small businesses and individual consumers. Instead, we see the proposals that are coming out of the White House and the halls of Congress are for more spending and more debt.
I believe that the more the American people learn about what's in these bills and how much the bills cost, they will want us to slow down so we can make better decisions in order to get this right. I think we owe them that. You can read the full text of the remarks on my Senate Website.