Sen. Cornyn Urges Administration To Clarify Inconsistencies & Expedite Trial Of Alleged USS Cole Mastermind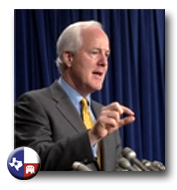 Friday I sent a letter to Department of Defense Secretary Robert Gates requesting clarification following inconsistent statements by the Administration regarding the status of the prosecution of Abd al-Rahim al-Nashiri, the al-Qaeda terrorist and alleged mastermind behind the USS Cole bombing on October 12, 2000. According to recent reports, the Department of Justice stated last week that no charges are pending or contemplated against al-Nashiri. However, the DoD stated simultaneously that charges are being developed against him.
As the 10th anniversary of the USS Cole bombing—which claimed the lives of 17 U.S. Sailors and wounded dozens more—nears, I believe it is unacceptable that the trial of al-Nashiri should be further delayed. Mr. Gary Swenchonis, a Texas resident and father of Petty Officer Gary G. Swenchonis, Jr., who was killed in the bombing, recently contacted me to express his deep frustration with the delays. He reported the Obama Administration recently notified him that charges against al-Nashiri were being shelved, causing his family further pain and heartache 10 years after the loss of their loved one.
The full text of the letter is as follows:
The Honorable Robert Gates
Secretary of Defense
1000 Defense Pentagon
Washington, DC 20301-1000
Dear Secretary Gates:
I write today to express my serious concern regarding recent reports that the Obama Administration is making efforts to once again shelve the trial of Abd al-Rahim al-Nashiri, the al-Qaeda terrorist and alleged mastermind behind the October 12, 2000, bombing of the USS Cole. Further delay of justice is unacceptable.
I request that you provide an explanation of the current status of al-Nashiri's trial. As you know, the bombing of the USS Cole was a heinous terrorist act which claimed the lives of 17 U.S. Sailors and wounded 37 others. Although charges were brought against al-Nashiri in 2008, the Obama Administration chose to withdraw the charges in February 2009. Subsequently, on November 13, 2009, Attorney General Eric Holder announced his decision that the prosecution of al-Nashiri would be pursued before a military commission. According to Attorney General Holder's remarks, this decision was rendered following not only his personal review, but in consultation with you.
However, according to a Washington Post article on August 26, 2010, the Department of Justice (DoJ) recently stated in a filing with the U.S. Court of Appeals for the District of Columbia that "no charges are either pending or contemplated with respect to al-Nashiri in the near future." The same article also indicated that your Department has issued a statement saying, "Prosecutors in the Office of Military Commissions are actively investigating the case against Mr. al-Nashiri and are developing charges against him." Your Department's statement appears to directly contradict what was contained in the DoJ's filing.
As Attorney General Holder appropriately acknowledged as he announced his decision to prosecute al-Nashiri by military commission, "For the many Americans who lost friends and relatives…on the USS Cole, nothing can bring those loved ones back. But they deserve the opportunity to see the alleged plotters…held accountable in court, an opportunity that has been too long delayed." As the 10th anniversary of the USS Cole bombing approaches, it has become no less necessary nor less urgent that al-Nashiri should stand trial for his role in orchestrating this terrorist attack. The families and friends of the Sailors who died or were injured on board the USS Cole deserve no less, and it is unconscionable that this trial should further delayed. To that end, I would appreciate your clarification of the current status of al-Nashiri's prosecution, as well as your commitment to seeing that al-Nashiri is vigorously prosecuted for his role in this attack.
Thank you for your faithful service to our nation, your dedication to our men and women in uniform, and your steadfast commitment to our national defense.
Sincerely,
JOHN CORNYN
United States Senator