Senate Democrats Vote to Kill DREAM Act and defy Lady Gaga on "don't ask, don't tell"
by Bob Price
on September 22, 2010 at 5:37 PM
---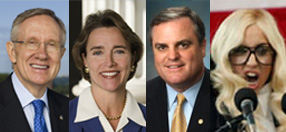 Yesterday Democrats in the US Senate voted against cloture on the DREAM act. Their three "NO" votes also helped kill the repeal of the US military's "don't ask, don't tell" policy, despite the pleadings of Lady Gaga and recent text exchanges between her and Senator Harry Reid.  Reid was among the three Senators who voted no.
Once again, the Democrats have lied to Hispanics. They have promised Immigration Reform and have not delivered. They have promised the DREAM Act and have not delivered. They continue to make promises to pander to the Latino community but continue to fail to deliver. Democrats continue to blame Republicans for their failures but the truth is, these democrats voted to defeat the cloture motion, thus killing the DREAM Act.
As early as last week, Senator Harry Reid and Dick Durbin doomed the DREAM Act to failure. How? They killed it by using a cheap political trick to tie the issue to the Defense Authorization Bill. They knew this would cause a hostile reaction from Republicans and even some Democrats in the Senate. No one wants to be forced into an issue with a gun to their head and that is exactly what Reid and Durbin tried to do with this trick. But the "trick" was really on the Hispanics who supported the DREAM Act.
While some Democrats may blame the Republicans for the failure, the truth is that the Democrats did not stand together to get this bill passed. Only 55 Democrats voted for cloture. Senators Blanche Lincoln (D-Ark.), Mark Pryor (D-Ark.) and yes, even Harry Reid (D-NV) voted to kill the cloture motion and, in effect, the bill. Had these three Democrats voted for cloture, it is quite possible that a moderate senator could have been convinced to cross over. But there is no way they were going to bring across enough votes to counter the Democrat no votes. Don't let the Democrats tell you Republicans killed this bill. Clearly Democrats wanted to use the DREAM Act as a ploy to once again deceive the Hispanic voters of this country.
Ronald Reagan said "Latinos are Republicans, they just don't know it yet." Perhaps yesterday's Dream Act vote was yet another lesson for Hispanic voters to learn about how the Democrats manipulate the facts to lure Hispanic voters without delivering on promises.  Yesterday Senator Cornyn said that "democrats attached language to the bill that represents a blatant attempt to score last-minute votes just weeks before an election."  If Democrats want the DREAM Act to pass, then why don't they bring the bill up on its own? Let it stand on its own merits! Let's have an open and honest and bipartisan debate on the issue. Then let's allow some amendments to make it a better law.  Perhaps then, real change can happen.
The DREAM Act failed yesterday because Reid and Durbin wanted it to fail and because Senate Democrats did not stand up for it.  And the repeal of the "don't ask, don't tell" policy failed along with it, just as they knew would happen.  Lady Gaga is upset:  the Democrats failed the gay activists who wanted to repeal Don't Ask, Don't Tell because of their own incompetent legislative procedure and their attempt at cheap political tricks.  It is just that simple.