Senate Republicans Adopt Cornyn's Balanced Budget Resolution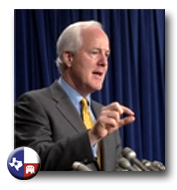 During Tuesday's Republican Conference meeting, there was unanimous passage of the resolution I introduced that calls for a Balanced Budget Amendment (BBA) to the U.S. Constitution. I also cosponsored and supported a resolution calling for a Republican moratorium on earmarks.
The American people have spoken, and Republicans have listened. I implore my Democratic colleagues to join us in our effort to restore fiscal sanity to Washington and make a Balanced Budget Amendment the law of the land. The American people want Democrats and Republicans to work together, and I can think of no better way to tell them 'message received' than all one hundred senators kicking off the new Congress unanimously voting to adopt a Balanced Budget Amendment.