Senator Cornyn Statement On Gen. McChrystal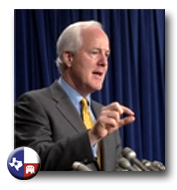 Today, I issued the following statement after President Obama accepted the resignation of General Stanley McChrystal:
Gen. McChrystal has served with great distinction in Afghanistan, Iraq and around the world, and I wish him the very best. Gen. Petraeus is a tried and true field commander and the architect of modern counterinsurgency strategy. Under his proven leadership during the surge in Iraq, our men and women in uniform turned the tide there. I am confident Gen. Petraeus will lead our troops to victory against those who seek to turn Afghanistan back into a terrorist breeding ground. He deserves our nation's thanks for accepting this assignment, and my prayers and best wishes go with him to Afghanistan.