Senator John Cornyn: I am Opposing Elena Kagan's Nomination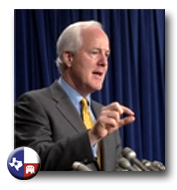 Solicitor General Kagan's testimony before the Judiciary Committee did not assure me that she agrees with the traditional understanding of the proper role of a judge. Judges should strictly interpret the written Constitution, which means both enforcing written limitations on the scope of government power, such as the Second Amendment and the Commerce Clause, as well as not inventing new rights or imposing their own policy views on the American people. 
Ms. Kagan's testimony about her judicial philosophy was vague and open to multiple interpretations. She was unable to articulate limits on the federal Commerce Clause power.  She did not rule out overturning the Supreme Court's recent decisions recognizing the importance of the Second Amendment. She backed away from her previous conviction that judicial nominees should be forthright about the direction they would move the courts. 
Also, Solicitor General Kagan lacks experience that could give us more insight into her judicial philosophy. As a lawyer, she has never tried a case to verdict. She only joined the Supreme Court bar in 2009, and she has never served as a judge.  
For these reasons, I will oppose her nomination.