Senator John Cornyn: President Obama's Immigration Speech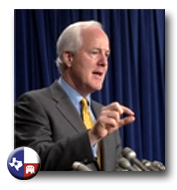 President Obama promised the American people that he would make immigration reform a priority during his first year in office. Eighteen months into his presidency, he continues to deliver words, but no action.
President Obama said he and Congressional Democrats are ready to move forward, but the only legislation they've moved forward are partisan bills to increase spending, take over our health care system, and bail out Wall Street. They made a strategic decision to put immigration on the back burner, and they now claim they can't even propose immigration legislation without a Republican. It's time for the President and Congressional Democrats to stop the charade. Op-eds, outlines and speeches won't cut it anymore.
I have told President Obama that I am committed to credible, bipartisan, comprehensive immigration reform, and that I am willing to work with anyone who shares that commitment. I'm disappointed that the President has yet to step forward and lead on this important issue.
Candidate Obama promised the American people that he would "put an end to the petty partisanship that passes for politics in Washington and enact comprehensive immigration reform once and for all." I wish President Obama would take candidate Obama's advice.