Senator John Cornyn: Statement on the Anniversary of ObamaCare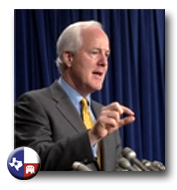 It seems like just yesterday President Obama and Congressional Democrats promised the American people that ObamaCare would increase coverage and lower costs. Now, just one year after ramming it through we are discovering the truth. Costs are skyrocketing, the federal government is ballooning, our national debt is through the roof, 15 million Americans are still looking for work, and middle class families and small businesses are paying higher taxes.
I opposed ObamaCare because it taxed too much, spent too much, and borrowed too much. I voted to repeal it and will continue to fight against it for these same reasons and I will work to replace it with a plan that truly increases access to quality, affordable health care.